14 Days Nature tour itinerary for Kathmandu, Bhaktapur & Kangchenjunga: Reach Base Camp Of The 3rd Highest Mountain In The World
Kathmandu, Bhaktapur, Kangchenjunga

Mountaineering Tour

Nature Tour

Trekking Tour
Enjoy this adventurous trekking tour in Nepal with plenty of mountainscapes and snow-clad peaks. Take candid shots at the Yalung Base Camp, Sele La Pass and Ghunsa village and end tour with local purchases from Taplejung and Illam Bazaars.
FLIGHT FROM KATHMANDU TO BHADRAPUR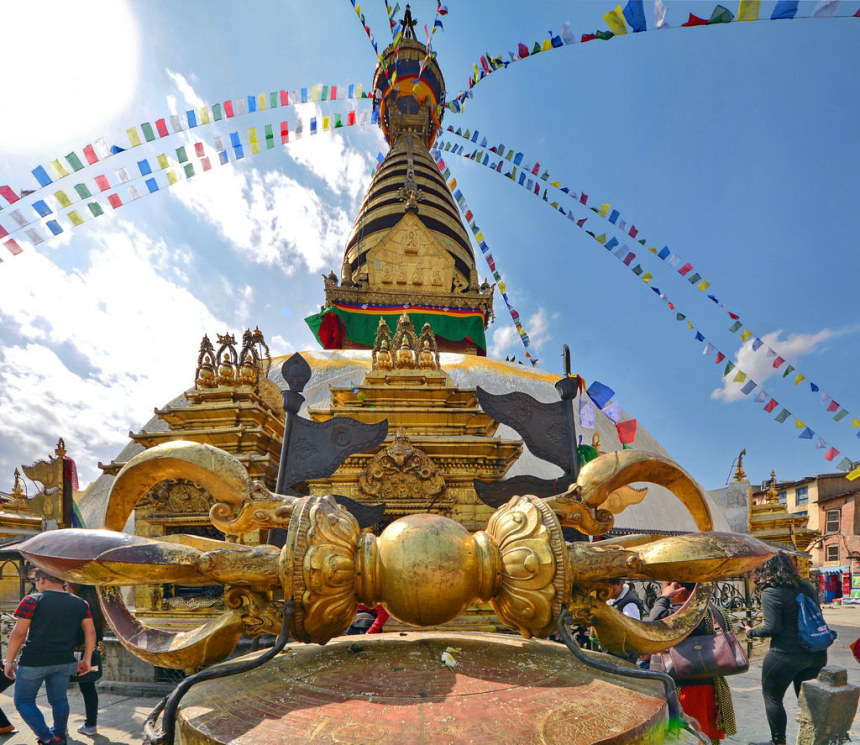 Take an early morning flight to Bhadrapur from Kathmandu.

After 45 minutes of flight, reach the Bhardrapur airport followed by a car/jeep ride from Bhadrapur to Taplejunga (8 hour drive).

On the way, you can stop in the beautiful tea garden of Illam and have lunch.
Overnight stay will be in Taplejung.
TAPLEJUNG TO HELLOK (1740 M) 5 HRS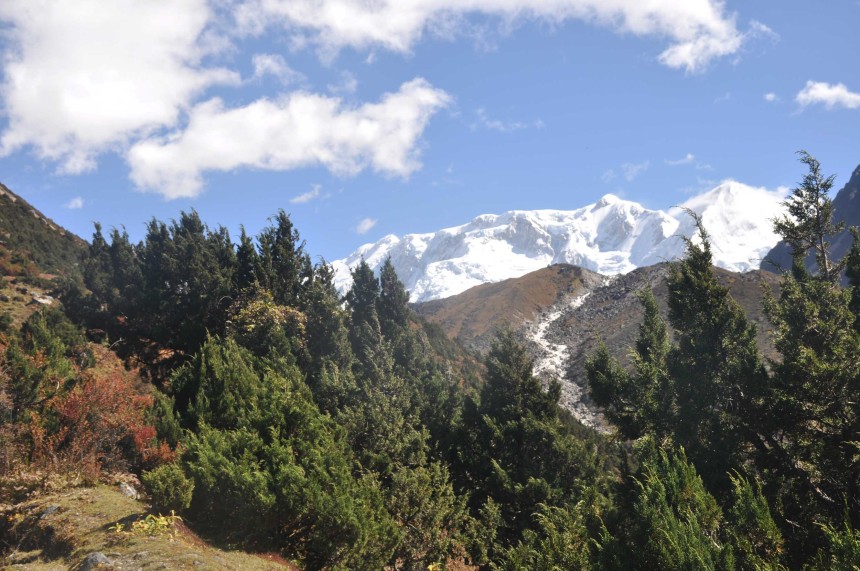 Head towards the Mitlung/Sinuwa by crossing a small river over a suspension bridge with your Nepali trekking guide. Then your trail descends down to Tamor River where you can walk through villages and terraced fields. You can engage with local people here.

Upon arriving at Tamor River, go through some narrow trails close to the river leading to a gradual uphill trail through terraced fields and few houses up to the village of Hellok.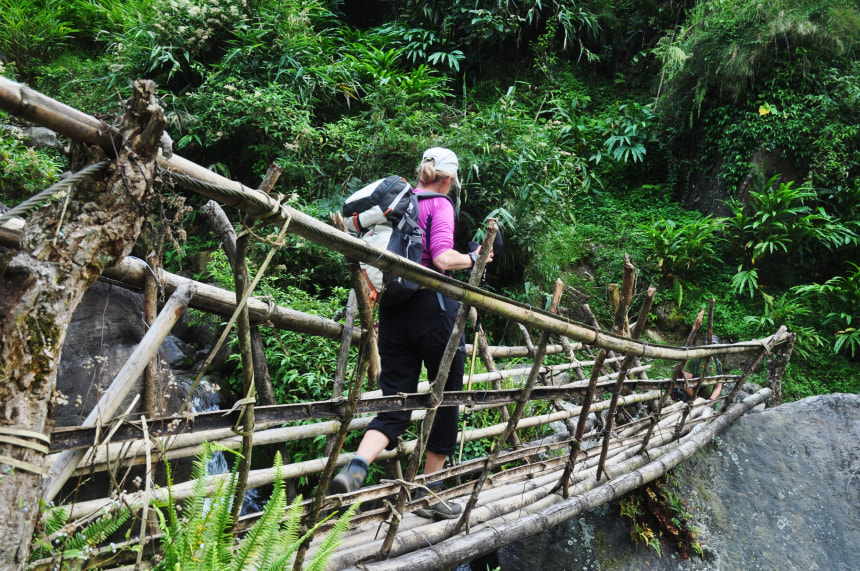 Trek to Mamasik from Hellok with your Nepali trekking guide. This will be an upward slope with beautiful scenery around.

Enjoy short tea breaks and engage with locals for local histories and sights of their beautiful houses and local domestic animals.

Walk along the Simbuwa Khola on your way to Mamasik and do an overnight stay at Mamasik.
YASANG TO TORTONG (2995 M) 5 hours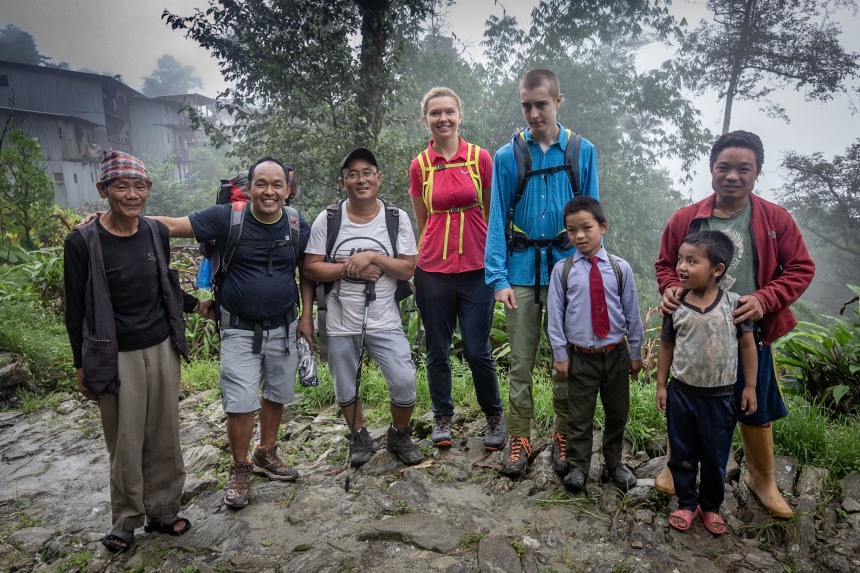 Begin from the Sibuwa river followed by a short steep uphill walk through rhododendron and bamboo bushes and thick forest to reach Tortong.

Enjoy animal spotting of Red Panda, Wild Boar, Bear, Musk Deer, wild birds and other wild animals on our way.
Overnight stay will be at Tortong.
TORTONG TO CHERAM (3870 M) 5 hours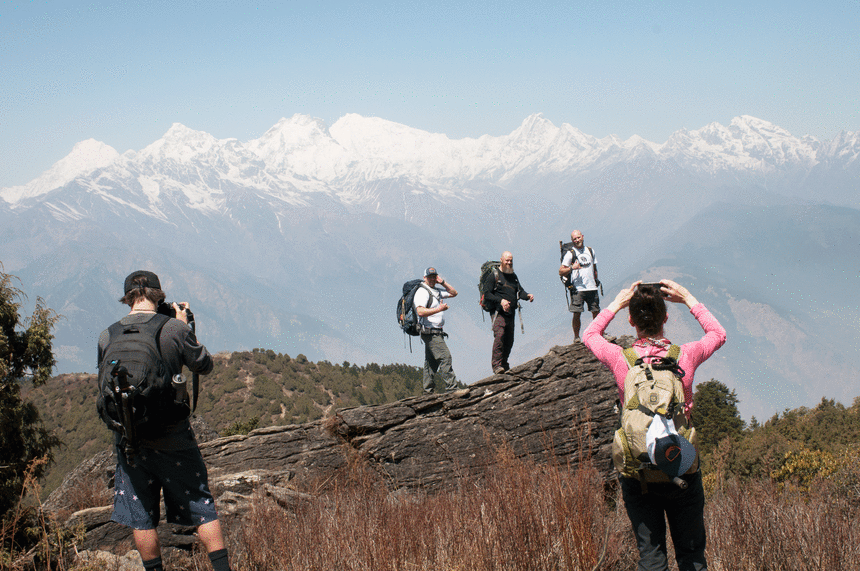 Start with a trek through a trail of dense forests of bamboo and rhododendron. This will be followed by an uphill walk along the Simbuwa Khola.

Reach Cheram for an overnight stay.
CHERAM TO RAMCHE (3870 M) 4 HOURS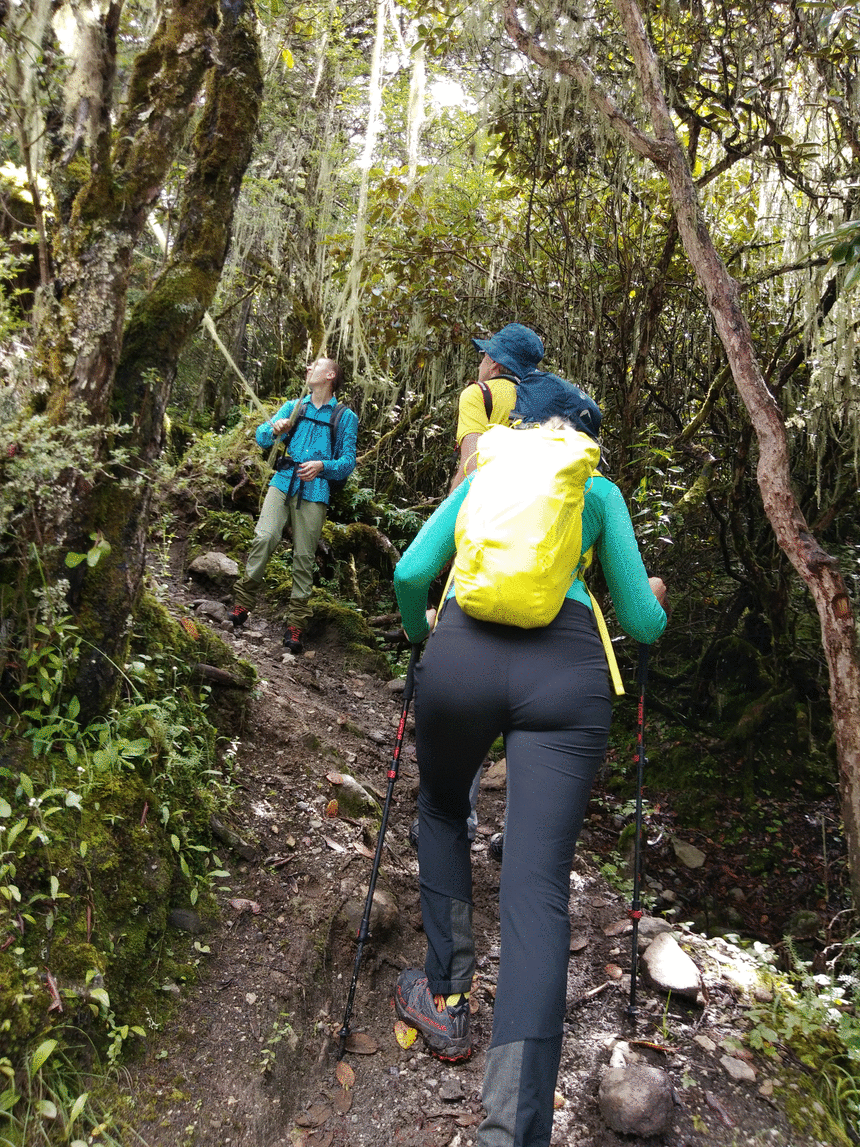 Begin your short trek after breakfast from Cheram. You will proceed to the snout of the Yalung Glacier. It is a beautiful walk on a valley trail. Watch out for several Himalayan peak views from here.

Pass through a small settlement of Lapsang before reaching Ramche for rest and overnight stay in Ramche.
RAMCHE TO YALUNG BASE CAMP (4500M) TO CHERAM 4 HOURS WALK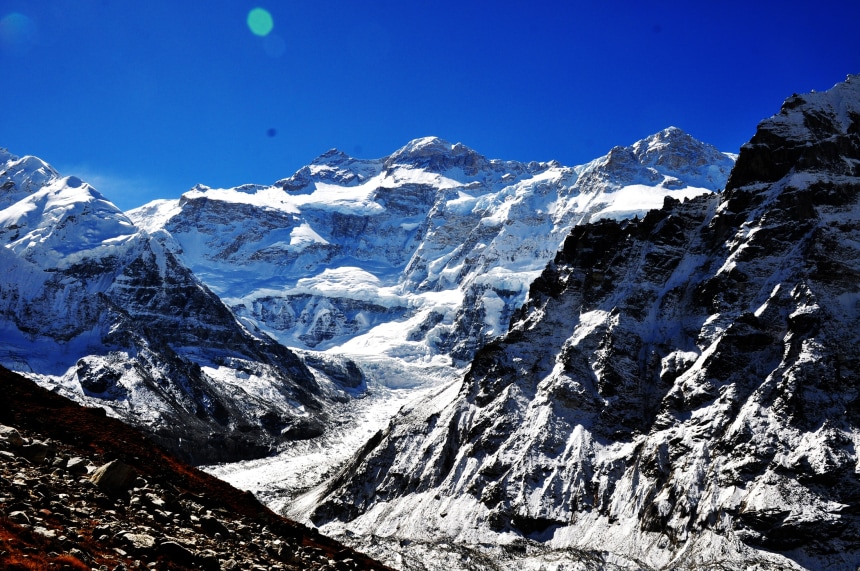 From Ramche, further, proceed up the valley to reach the Kanchenjunga's ranges - south side. From here, you will go further ahead for a glimpse of the Jannu Himal and continue your trek towards the Oktang Monastery.

From this monastery, climb further up to reach the Yalung Base Camp. The views from this base camp are extraordinary with views of Kumbakarna (Jannu), Nyukla Lachung and other Himalayan peaks.
Overnight stay will be at Cheram.
CHERAM TO SELE LA (4290M) 6 HOURS WALK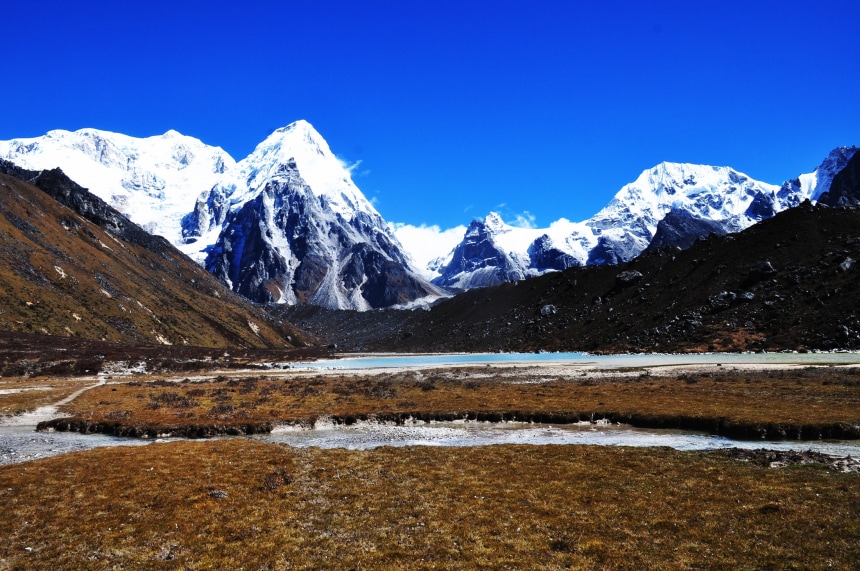 Begin your trek after breakfast. Cross four passes today beginning with Sinelapche Bhanjyang, Mirgin La pass, Sinion La pass and Sele La pass. There are prayer flags strung across one of the steeper sections of the trail which is very near to the Sele La pass.
Overnight stay at Sele La.
SELE LA TO GHUNSA (3,595) 4 HOURS WALK
Begin your trek after breakfast. Start with a walk towards the northern side at Tangbgharma Danda to reach a chorten marked by prayer flags, marking the start of a steep trail.

Descend through rhododendron, birch and pine forests before reaching Ghunsa village.
REST AND EXPLORATION DAY IN GHUNSA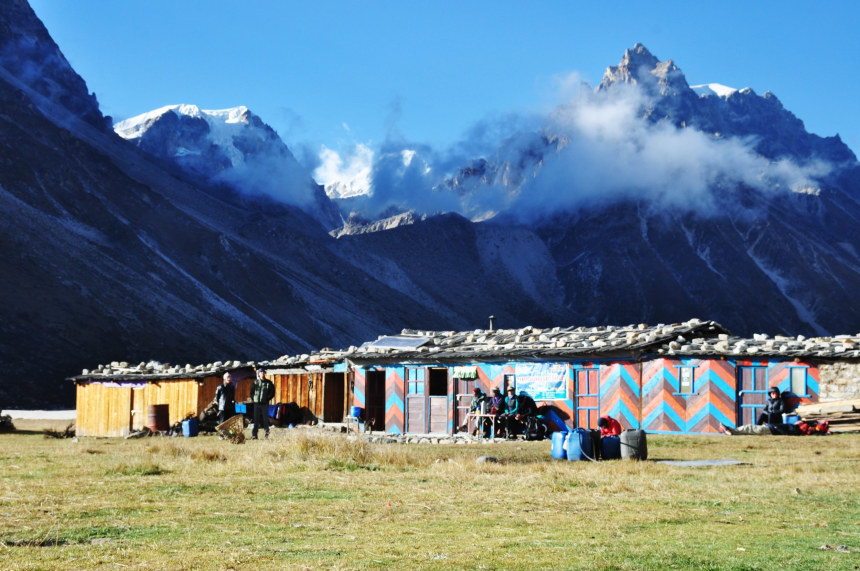 Ghunsa is a beautiful settlement of Sherpa people with their beautiful culture and lifestyle, so you will take a day off for the rest in Ghunsa.

Visit the Monastery, Juniper and incense factory and antique shops for some handmade carpets.
GHUNSA TO AMJILaSA (2,308M) 6 HOURS WALK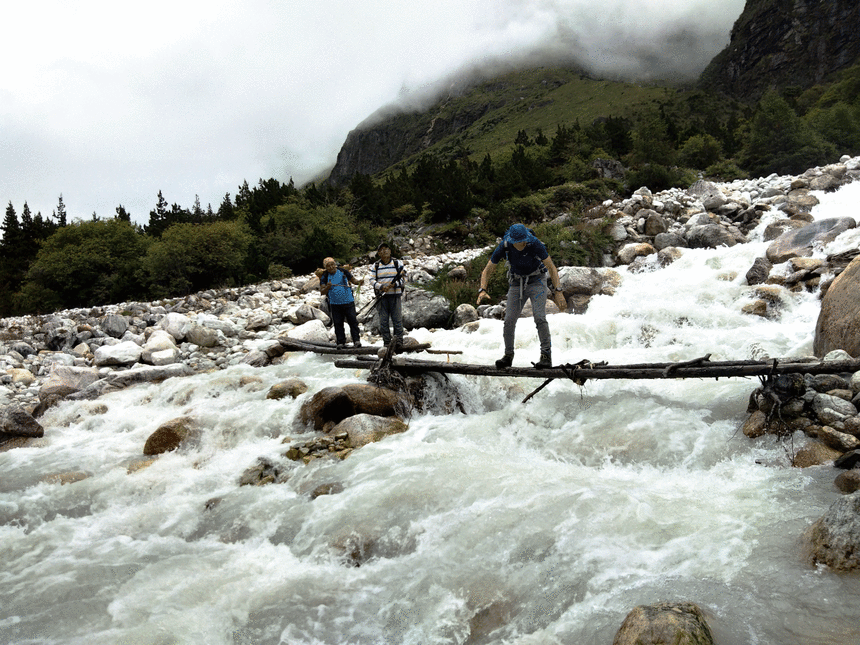 From Ghunsa, descend towards Phale by walking through Juniper forests. From here, it is a steady descent to Gyabla.

Cross a bridge over Chhundatangka Khola river to reach Gyabla. As you continue our trek, you will see a waterfall nearby. After crossing a suspension bridge over Sumbung Khola river, reach Amjilosa for an overnight stay.
AMJILOSA TO HELLOK (1,270M) 7 HOURS WALK
Continue your trek towards the settlement of Solima by crossing a suspension bridge over Ghunsa Khola. The trail will pass through several villages before landing at Chirwa for overnight stay.
HELLOK TO ILLAM DRIVE BY PRIVATE JEEP 9 HOURS DRIVE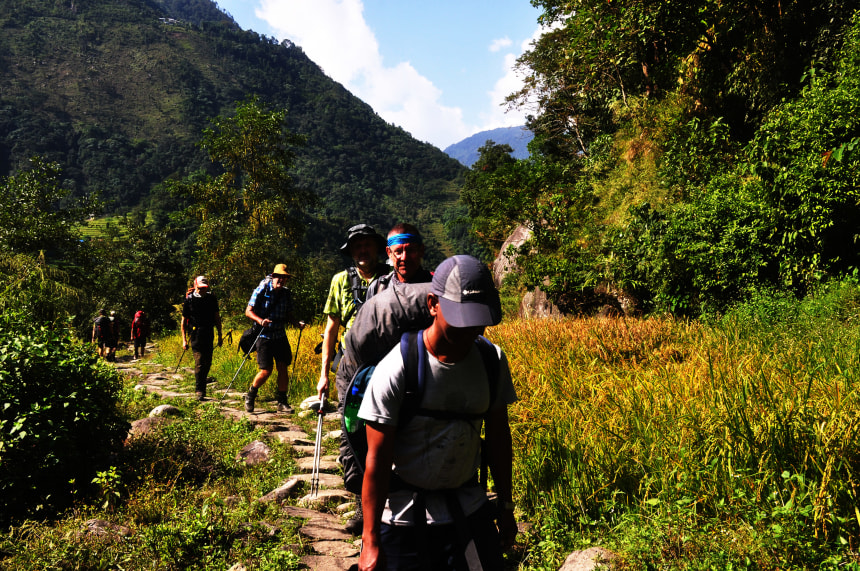 Drive through the Taplejung Bazaar area in a private jeep/car to see local cultural sights and beautiful cardamom gardens.

After an approx of 6 hours of drive, you will reach the Illam Bazaar area for an overnight stay in Illam. Illam is very famous for its local products like Tea, Cardamom, Ginger, Ghee, chilly and other household products.
ILLAM TO BHADRAPUR BY PRIVAT JEEP 4 HOURS DRIVE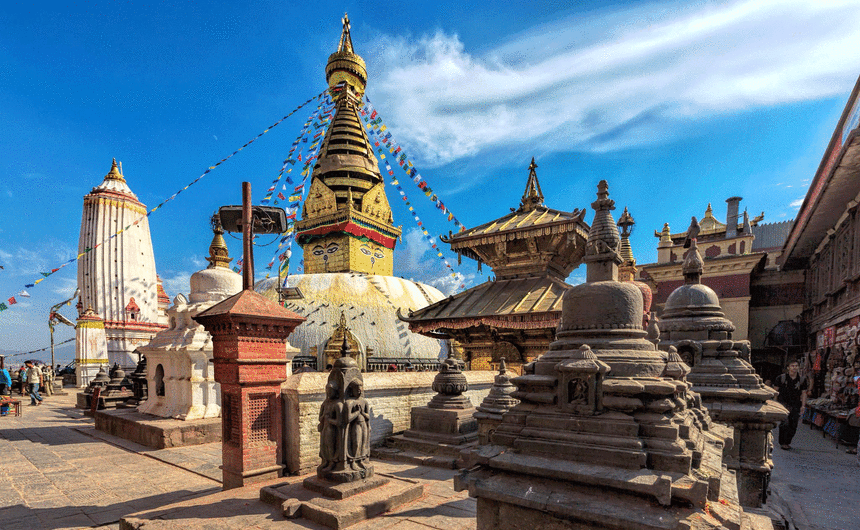 Drive from Illam to Bharapur in a private jeep. On the way, you will pass by tea gardens and small towns. If interested, you can stop for some local purchases.

Head towards Bhadrapur airport for your return flight to Kathmandu on the same day.
Airport/ hotel pick up and drop off by the private vehicle.

Hotels in Kathmandu, inclusive of breakfast.

Meals during the trek.

Government licensed, experienced English speaking Kathmandu (Nepali) trekking guide.

One porter per two people.

Food, accommodation, salary, insurance, equipment and medicine for all staff.

All government taxes.

One trekking map per person.

Kanchenjunga permit and conservation fees.

Surface transportation.

Sleeping bags and down jackets for the trek (should be refunded after the trek).

First aid kit.

Domestic flight tickets KTM–BDR/Suketar.

Trekking map.
Travel and rescue insurance.

Beverage bills, bar bills, telephone bills and personal expenses.

Nepal entry visa.

Tips for guide, porter and driver.

Excess baggage charges (if you have more than 10 kg of luggage, a cargo charge is around $1.5 per kg)

Extra night accommodation in Kathmandu because of early arrival, late departure, early return from mountain (due to any reason) than the scheduled itinerary.

Lunch and evening meals in Kathmandu (and also in the case of early return from the mountain than the scheduled itinerary).

Optional trips and sightseeing if extended.
Trekking Equipment List:
Day pack (25–35 litres).

Pack cover.

Sleeping bag comfortable to 0°F (dependent upon season, weather forecast and personal preference) optional.

Waterproof hiking boots.

Camp shoes (down booties or running shoes).

LED headlamp with extra batteries.

Trekking poles.

Trekking Clothing.

Wicking, quick-dry boxers or briefs (3).

Wicking, quick-dry sports bra (for women).

Heavyweight long underwear bottoms.

Mid-weight long underwear bottoms.

Mid-weight long underwear top.

Wool or synthetic T-shirts (2).

Mid-weight fleece or soft-shell jacket (2).

Convertible hiking pants.

Fleece pants or insulated pants.

Lightweight waterproof/breathable rain jacket.

Lightweight waterproof/breathable rain pants.

Mid-weight fleece gloves or wool gloves.

Liner gloves.

Mid-weight fleece/wool winter hat.

Sun hat.

Mid-weight wool or synthetic socks (3 pairs).

Liner socks (optional).

Sunglasses.

Sun lotion 35 to 40.

Water Bottle.

Slippers.

Towels.

Raincoat.

Personal medicine kits.
Kathmandu, Bhaktapur, Kangchenjunga

Mountaineering Tour

Nature Tour

Trekking Tour

Contributed By
Other Tours by this guide