7 Days Safari tour itinerary for sri-lanka: Uncover Heritage And Diverse Animal Life
Bentota, Dambulla, Galle, Knuckles Mountain Range, Nuwara Eliya, Pinnawala, Sigiriya, Yala National Park

Safari Tour

Sightseeing Tour

Wildlife Tour
Venture into the abundance of flora and fauna of the country that ranges from wild elephants and leopards to sea turtles and a wide variety of birds. Don't forget to visit significant cultural and historical hubs like Dambulla Rock Temple and Sigiriya Rock Fortress.
Airport - Pinnawala - Dambulla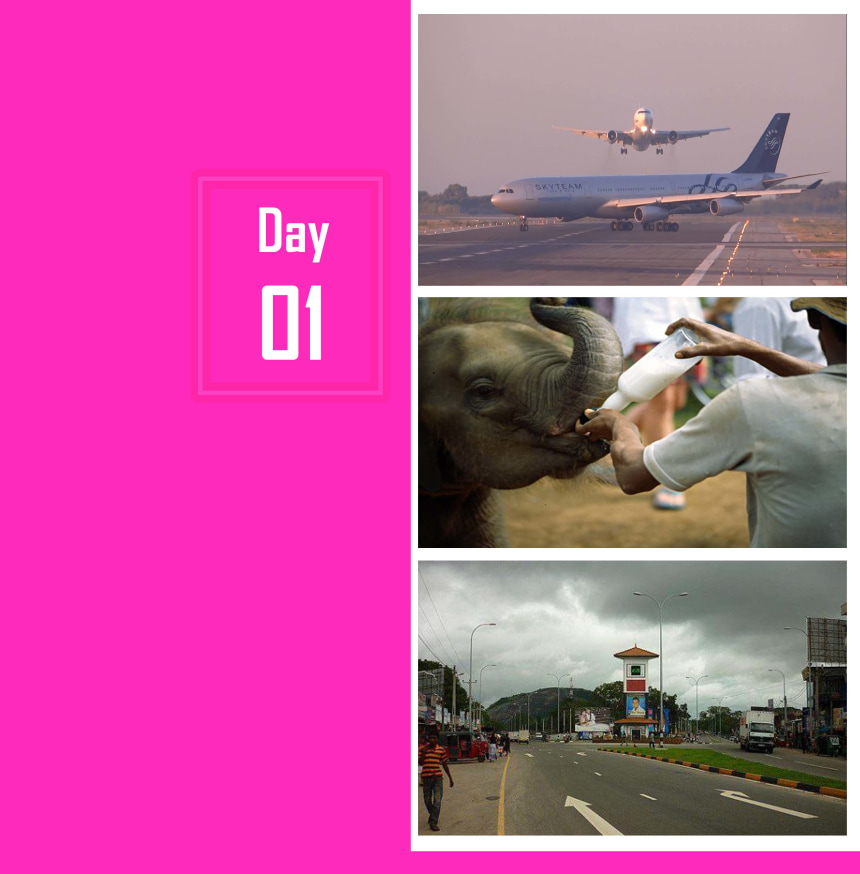 Meet and assist on arrival at the airport, then transfer from airport to Dambulla with your Sri Lanka driver.

On the way, you can visit Pinnawala Elephant Orphanage. As you enter the 25-acre coconut property, witness baby elephants being bottle-fed or moving around freely causing absolutely no harm to anyone. It is rightly a sincere sight to observe how these gentle giants - orphaned and sometimes three-legged are taken care of since 1975 at Pinnawala Elephant Orphanage. Till date, over 20 elephant calves have been born here, and it is surprising to hear that some of its inmates have even seen their grandchildren during the past few decades.

Watch as they feed at 09:15 am, 12:15 pm & 05:00 pm and take a river bath twice a day at 10:00 am & 02:00 pm respectively for an experience that could never be felt anywhere else on earth.
Overnight in Dambulla.
Dambulla - Kandalama - Polonnaruwa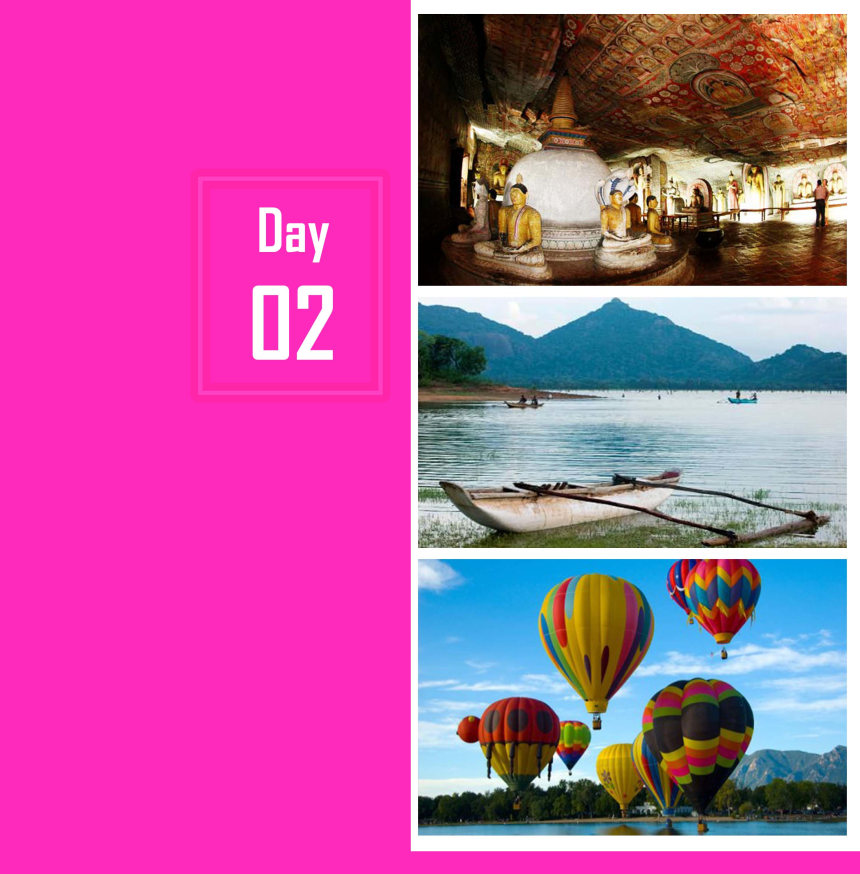 A hub which has been treasured by many kings since the 1st century B.C. today, an icon in the face of Sri Lanka, Dambulla Rock Temple houses some of the most unique drawings in magnificently constructed 5 cave temples flanking the golden temple of Dambulla.
Observe how exquisitely cave paintings are done along the walls that shelter 150 statues of Lord Buddha.

A floating trip in the hot air balloon provides an ultimate view over Kandalama lake and the surrounding landscape. If you could find a couple of days off, Kandalama is a destination waiting to be explored by ultimate nature and adventure lovers. Don't be surprised if a wild elephant crosses your path en route Kandalama, just sit back and take a good look because you are just within the borders of the 'Bigfoot' kingdom.

Drive to Dambulla for an exhilarating hot air balloon ride which should give you breathtaking aerial views. Rising with the decline of Anuradhapura, the city of Polonnaruwa - medieval capital & crown jewel of King Parakramabahu I - remains superior proof of ancient culture & heritage blended with religious beliefs.

Walk across the scattered walls of this World Heritage Site.
Overnight in Dambulla.
Dambulla - Sigiriya - Knuckles Mountain Range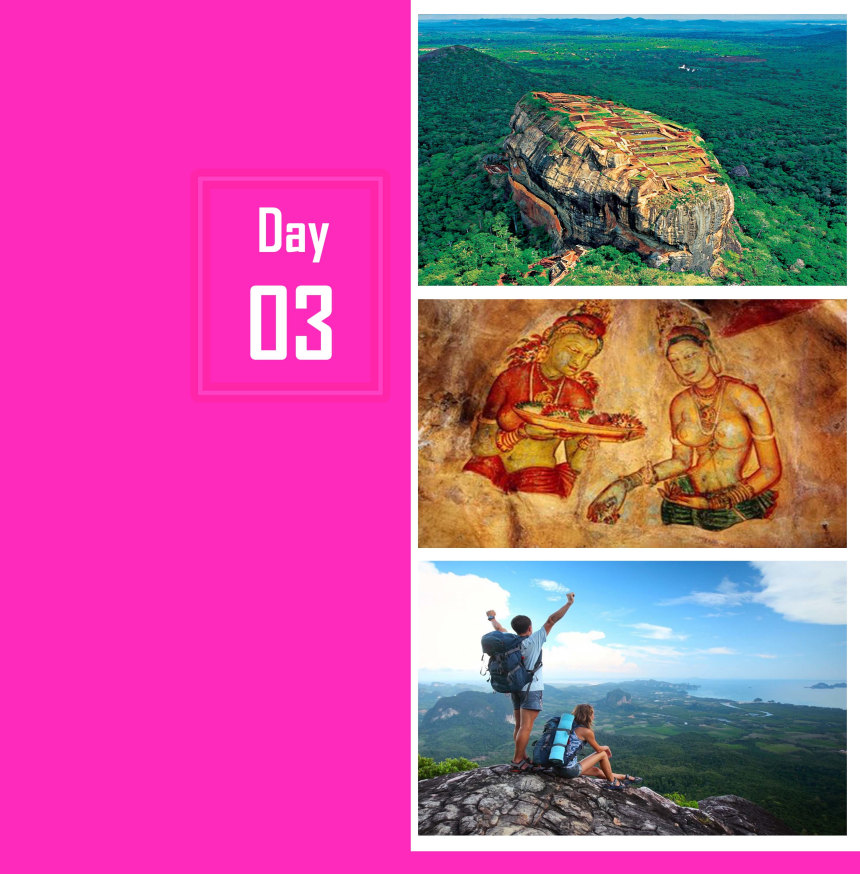 After breakfast, proceed to Sigiriya. The 5th-century rock citadel of King Kasyapa and World Heritage Site. Sigiriya doesn't only boasts of ancient Sri Lankan engineering & urban planning supremacy but also acclaims to be one of the finest monuments of art & culture.

Step through the gigantic 'Lion Paws' overlooking the symmetrical royal gardens below to comprehend the absolute splendour that once dominated this rock fortress.

Walk in the shade of an eminent 'mirror wall' embracing the Western face of Sigiriya representing an artistic hundred meters laminated graffiti.

Proceed to Knuckles for a light trek.

Visit the Knuckles Mountain Range. Knuckles, the mist-laden mountain range - resembling knuckles of a clenched fist - stretching within Matale & Kandy.

Meanwhile, fine-tune your evening by listening to the crickets' cry as lanterns sway in the wind while you sit the comfort of your canvas tent.
Overnight in Knuckles.
Knuckles Mountain Range - Nuwara Eliya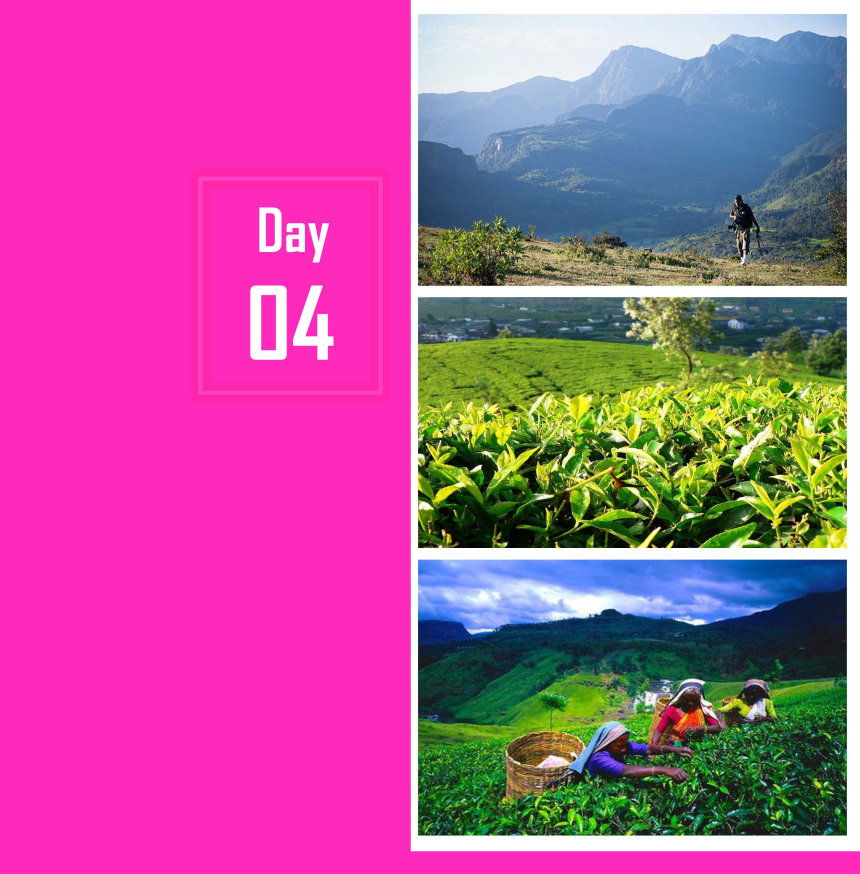 Proceed to a Tea Plantation and a tea factory.

Take a tour to the cold & misty hills that take pride of an ultimate tea tour, covering lush green blankets of tea plantations or just step into a tea factory processing the prestigious brand of Ceylon Tea, to observe a rich tradition kept alive till date. As you observe the hissing and swishing of machines, inhaling the heavenly scent arising from these facilities, make sure to end your day in style over a perfectly blended cup of pure Ceylon Tea, directly from the factory.

On completion, proceed to Nuwara Eliya Misty on steep roads, twisting through lush green blankets of tea bushes in a cold climate.

Augmented by an English countryside atmosphere, the city of light - once governed by English & Scottish planters - is still studded with colonial bungalows, hedgerows & one of the finest 18-hole golf courses in the world.

Take a hike through the green grass and red-brick walls to behold breathtaking views of a buzzing countryside hamlet.

Hop into a rattling train smoking and hissing its way through green valleys of the hill country pierced by endless waterfalls & dotted by tea pluckers draped in bright-coloured saris.
Overnight in Nuwara Eliya.
Nuwara Eliya - Horton Plains - Yala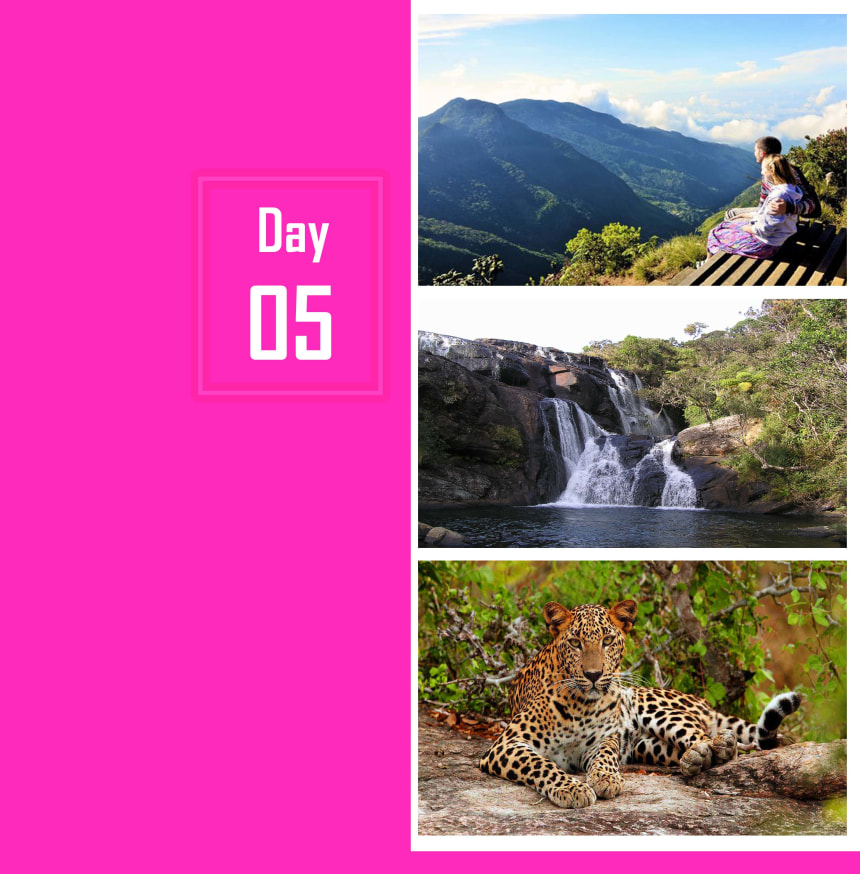 Early morning, proceed to Horton Plains, UNESCO World Heritage Site & Eco-tourism hideout in the heart of the island. It is painted with unending stretches of green pastures and marks as one of the healthiest wet montane evergreen forests in Sri Lanka. With an altitude above 7000 ft, the plateau sweeps to a robust 3169 hectares sheltering flora and fauna varieties that may be found nowhere else on earth. As the tributary of Belihuloya - Bakers Falls - thunders down rocks head off the beaten track across frost-covered grass to feel the icy-cold wind against your face.

You may even gaze down World's End, a head-spinning 3700 ft drop towards the Southern end or drive carefully through herds of sambar deer, shy to human touch & birdlife chirping across the plains.
Overnight in Yala.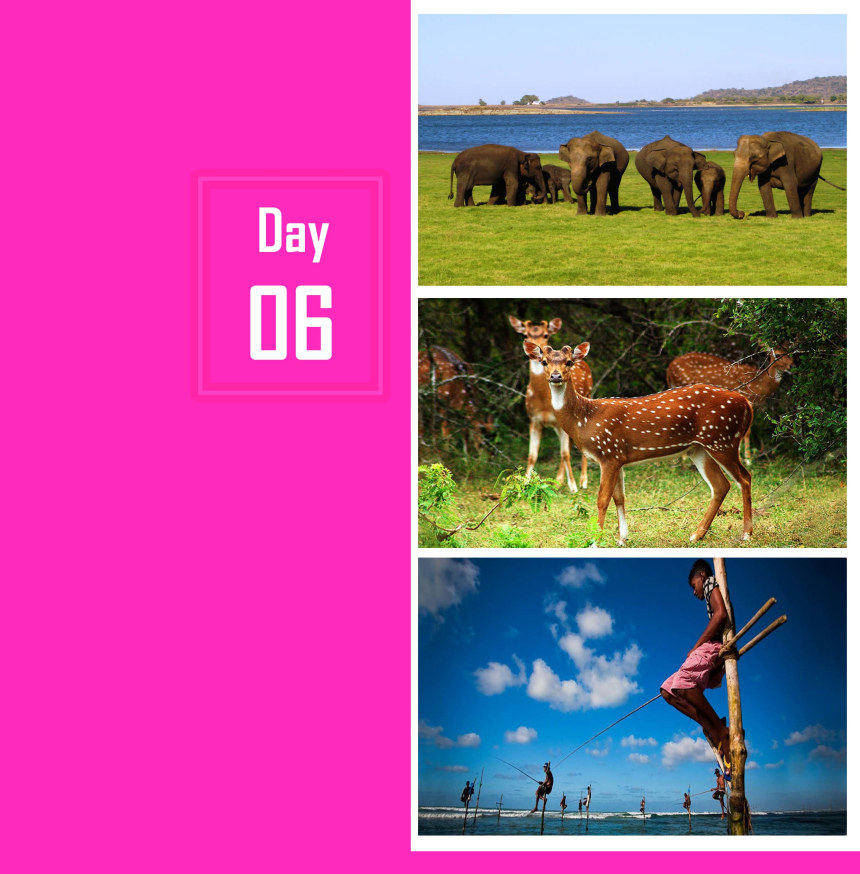 After breakfast, proceed to Yala. Spreading into a vast 1259 Km2 Yala with its glory spinning around vast grasslands, shrubs, tanks and dunes rightfully is the heartland of wildlife in Sri Lanka.

As your jeep rumble through the giant gates of Yala, you are not only stepping into the most visited national park in the country but also the land of a civilization which thrived during the reign of Sri Lankan kings.
Overnight in Galle.
Galle - Bentota - Airport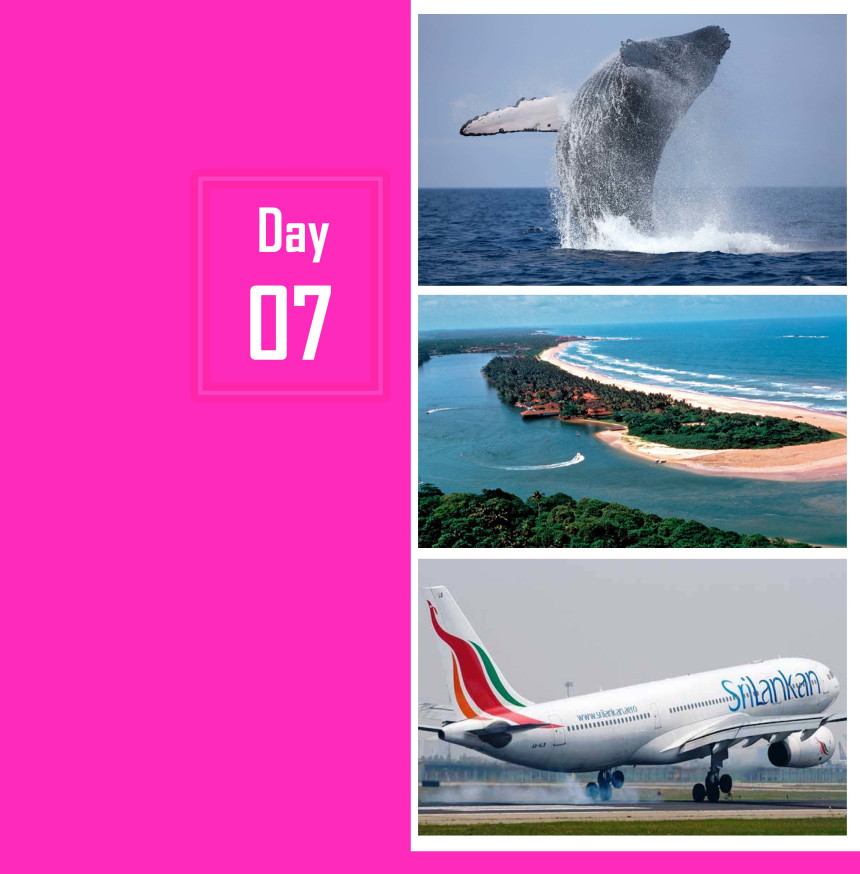 Galle, the epic Southern capital, is the intersection where classic Dutch architecture meets a tropical setting creating a vivid atmosphere in beauty.

Roam the streets listening to the creaks of wooden saloon doors and observe how European architecture mingles with South Asian traditions.

Walk clockwise within the fort to observe the 'Old Gate' carrying the British coat of arms. Flanking the old gate is the Zwart bastion the oldest of all and the lighthouse standing 18 feet in its glory next to the Point Utrecht Bastion. This Dutch bliss is painted with streets that spread in a rectangular grid pattern pierced with houses carrying Dutch colonial style verandas.

Bentota undoubtedly has some of the best stretches of clean sandy beaches in the country boasting of numerous romantic settings carved by both the river & sea.

Float into the ocean for some deep-sea fishing or get wet with some serious rumble on the water with jet skiing, surfing, diving or bodyboarding.

Finally, cherish the golden sun sink into the horizon as you sit back gently under a palm tree.
360 USD Per Group (* For Car - Max 3 People 51 USD Per Day)
540 USD Per Group (* For Van - Max 06 People 77 USD Per Day)
Car

Fuel

Sri Lanka driver

Accommodation

Parking fee

Insurance

Taxes

Meals
Knuckles Mountain: It is nothing but a subtle habitat of flora and fauna, most of them being endemic to Sri Lanka. Knuckles is also considered to be a watering hole for hikers across the globe. Most of all, you are more likely to forget the rest of the universe once you sit back on a cliff that offers an absolutely spectacular sight of surrounding dense forests, tea plantations, terraced paddy fields and waterfalls.

Yala National Park: You name it, and Yala has it. Its usual inmates cover herds of elephant, sloth bear, spotted dear, jackal, extensively populated birdlife as well as the highest density of leopards in the world that garnish the park to be one of the finest destinations in the country. Feel the rough track as your jeep thunders over rocks and swish passing narrow bends for an exhilarating experience blended with the cries of wilderness under the tropical sun.
Bentota, Dambulla, Galle, Knuckles Mountain Range, Nuwara Eliya, Pinnawala, Sigiriya, Yala National Park

Safari Tour

Sightseeing Tour

Wildlife Tour
Contributed By
Other Tours by this guide
From USD

360

7 Days

Visit Sri Lanka, home to South Asia's most intriguing religious and cultural attractions, featuring elaborate art and ...

From USD

360

7 Days

Make full uses of the country's beaches and go sun-bathing, swimming, participating in water sports, deep-sea fishing and ...

From USD

540

10 Days

Enjoy the breathtaking scenery of the lush green hills and wander in tea, cinnamon, nutmeg and rubber plantations. ...