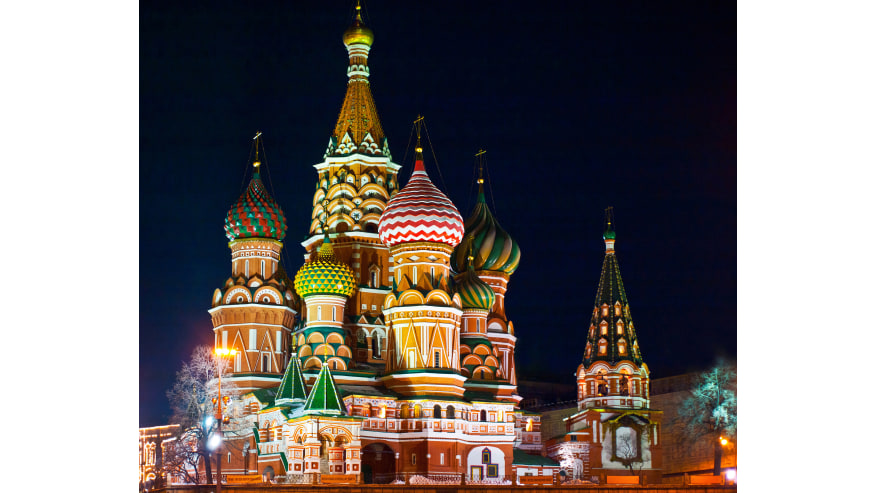 Erin Skahan
When asked to name a Russian food, most people have to think about it for a minute. Perhaps the bright red image of borscht comes to mind, or maybe boiled potatoes? A food tour guide on your Russian holiday would certainly help to expand your knowledge, given that Russian cuisine has yet to become popular in the rest of the world.

Long winters across this expansive northern land mass made the season for fresh vegetables a short one. This required people to find creative ways of preserving mass quantities of food in order to survive through fruitless winters. There were four key methods of preservation used, all of which are not only still common, but they are gaining popularity today due to an increased interest in home gardening, self-sufficiency, and preserving. This food guide will tell you about the most traditional Russian foods, and the best places to sample them when you're traveling through Russia.
Fermented Foods
The fermentation method of preserving food is getting a lot of attention these days, and for good reason. Not only does it allow us to utilize what doesn't get consumed in the harvest months, but it adds more complexity to the flavour of food. This preservation method is a staple of the Russian diet, resulting in some pungent and unique dishes.
Kefir is the most popular Russian fermented beverage, made from milk and, what are often called magical, kefir grains. This thick, soured milk originates from Russia and other parts of Eastern Europe and was a way for people to create a filling, highly nutritious food from dairy milk. This was an important way to increase vitamin intake because the primarily root vegetable diet did not offer a wide variety of nutrients. There were other health benefits as well. Kefir added probiotics which assisted in digestion and vitamin absorption, while simultaneously ridding the gut of toxins.

The first commercial kefir was produced in Moscow in 1908, becoming widely popular by the 1930's. Today, you can find kefir on the shelves of most grocery stores enjoying another resurgence as a health food. You can find plenty of variety in the stores, but the most locally sourced, small batch homemade options are found at the rynok, basically farmers markets. The best one to visit in Moscow is Preobrazhenskiy Rynok, a market that has been here since 1932 and is praised as being one of the highest quality and best value in the city. For a more artisanal experience, keep an eye out for the small specialty shops, especially LavkaLavka, a Moscow based higher end chain.
A much-loved classic and versatile Russian dish is a soup called shchi. This is a cabbage soup with beef broth, almost always topped with a dollop of smetana, fermented soured cream, adding a creamy tartness. During the winter months, the cabbage that had been fermenting would be used instead of fresh cabbage, resulting in a tangy and fuller flavoured sour shchi. For the most authentic version of shchi, Grande-Cafe Dr. Zhivago in Moscow is the place to go! They specialise in a 24-hour fermentation version of the classic soup, and their menu is full of authentic flavour. Be sure to make a reservation a day or two in advance. Walk-ins are welcome but they are generally booked.

Another important part of life in Russia is the tradition of making kvass. This is essentially a beverage made from bread, traditionally rye bread, which after a short fermentation process, becomes slightly carbonated. Even though the process results in a very low alcohol content, it's commonly consumed by children and adults alike, and serves as more of a soft drink. Again, this was a way to create more nutritional value from an existing food. Kvass fills you up, is high in vitamin B, and has even been shown to kill typhoid bacteria.
You can find commercially produced kvass everywhere in Russia, and many higher-end restaurants have begun to ferment their own versions. The best place to really understand the origins is a monastery located about 50 km from Moscow. Savvino-Storozhevsky Monastery, in the town of Zvenigorod, has been producing this unique beverage for over 600 years. Book a tour guide for this 1.5-hour trip and sample the monk produced kvass, along with the bread used to make it.
Salted Foods
Throughout Russia, salt has tremendous respect. Historically, the head of the table would personally apply salt to the dishes of guests. Those seated the furthest away received little or no salt to accompany their food because they were considered the least important at the table. This public salt shaming at the dinner table was quick to disappear after the salt tax was lifted following the Salt Riots of 1648. As the flavourful mineral became more available, brining vegetables in a mixture of water and salt became a popular preservation method. Common brined foods included tomatoes, cucumbers and mushrooms.
Smoked Foods
Along with salting, smoking was also traditionally used to preserve fish. With plenty of lakes and rivers throughout the country, there was never a shortage of variety. This also became important for preserving fish during the frequent Orthodox Christian times of eliminating meat and dairy from the diet. If you're looking for a true sea-to table experience, St. Petersburg is home to Russkaya Rybalka, a seafood restaurant with a unique concept. Here, you can order from the menu, or use one of their fishing rods to catch something from their private, diversely stocked lake next to the restaurant. Once you've made your catch, the staff will deliver your fish to the Chef where it will be prepared for you on the spot. This is the perfect place to sample all the ways Russians preserve and prepare seafood, from fresh caught to smoked, salted or left to absorb flavour in specialty marinades.
Later, smoking cheese also became popular. The most ubiquitous modern version is called chechil, which originated in Armenia. It resembles a small baguette, made of braided "noodles" of cheese. This is a popular salty snack throughout Russia and Eastern Europe, commonly enjoyed with beer. This and other salted bar snacks can be washed down with some local craft beer at Craft Republic, a casual and hip spot in Moscow, open to quench your thirst until 4 am. If you're the type who likes beer before breakfast, St. Petersburg has you covered. The Beer House on Nevsky Avenue stays open until 6 am, serves better than average pub food, and has live music until late.
Soaked Foods
Soaking food in Russia refers to a marinade. Traditional gravies of flour and drippings are uncommon, giving way to juicier sauces. These are sometimes mixed with fruit like apples or pears, and there might be a bit of sour smetana cream mixed in as a thickener.
Soaked grains have remained on the traditional Russian menu for centuries. Called kasha, this porridge most traditionally consists of buckwheat grains soaked in milk or water. This can be done sweet for breakfast, served with a wild berry jam or brined berries, or it can make a hearty and savory dinner. The word kasha translates to feast, and it's fitting. As the main course, meat is added to the porridge making a satisfying meal that goes a long way and keeps you full for hours.

A truly mouthwatering version can be found at The White Rabbit in Moscow, a stunning restaurant situated 16 floors high offering breathtaking views not only of the city but also of the sky through the vaulted glass ceiling. Here, try the fish porridge for a modern twist, or opt for their more traditional version with hazelnuts and foraged morel mushrooms.
Sweet Foods
A food tour through Russia isn't complete without sampling the endless varieties of sugary treats the country is famous for. Most have religious origins and are still consumed according to timelines that correspond to these holidays.
Blini are a traditional small pancake traditionally made with wheat. These are popular before lent, similar to Pancake Tuesday in other parts of the world. They are also commonly served at wakes after a death, and toppings range from butter and sweet preserves to sour cream and caviar. Pancake type layered desserts in Russia are everywhere, in all shapes and sizes. Syrnrki would be the most recognizable of these dishes, a pancake with cheese, often topped with fruit preserved in syrup and powdered sugar.

And finally, be sure to try Kulich, a sweet bread with fruit, like the Italian panettone but served with icing.

Your sweet tooth will find plenty to stay satisfied. Head to the oldest bakery in St. Petersburg, Cafe Pyshechnaya for their famous pishki donuts. In Moscow, plenty of variety can be found at Le Pain Quotidien, so plan to spend plenty of time here sampling the numerous confections!
"Erin is an experienced solo traveler, interested in how food shapes culture. She cooks and writes her way through cities and villages, primarily focusing on Western Europe."
Images details and licenses:
Shchi: https://flic.kr/p/82CVjN (Victoria Vasilieva, CC BY-SA, 2.0), Kasha: https://images.app.goo.gl/WDTw34cN8W7sE4Yp9 (Nickispeaki, CC BY-SA 4.0), Kulich: https://flic.kr/p/F6G26A (Adam Clark, CC BY-SA 2.0)