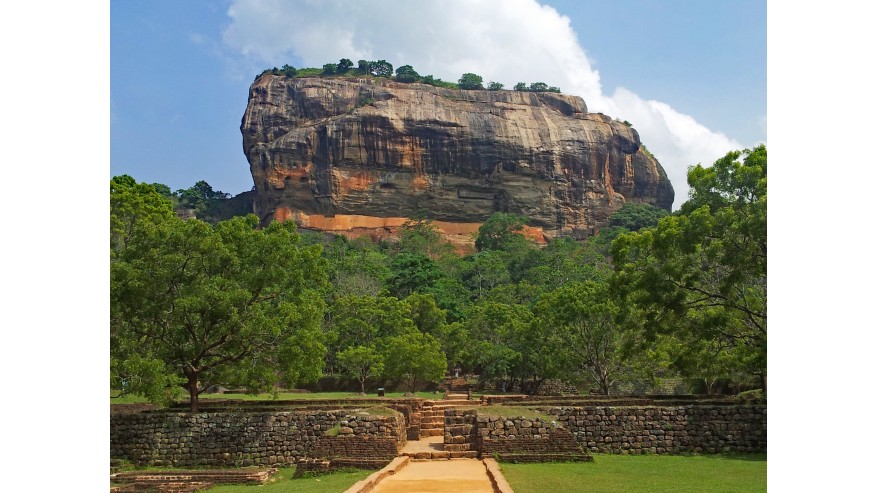 Surrounded by the Indian Ocean, the tropical island nation of Sri Lanka is located off the coast of southern India. A land with a long history and a strong sense of spirituality, Sri Lanka has many places of cultural, historical, and religious interest, beautiful beaches, and natural attractions. Delicious food, great shopping, good transportation links, and accommodation options to suit all budgets help to make Sri Lanka an appealing destination. Discover more about this diverse and captivating land when you explore with a tour guide in Sri Lanka. Not only can your tour guide explain the significance of various sites and give you an overview of the local traditions and culture, but also they are great company on those long drives from one site to the other!
Here are ten of the best experiences to have on a visit to Sri Lanka:
1. Dine on the Traditional Dish of Lamprais
One of Sri Lanka's more unique dishes, Lamprais has influences from Dutch cuisine. It consists of rice that has been boiled in stock, meatballs, curry, and a spicy sambol chilli, all wrapped together in a banana leaf and cooked in an oven. Unwrap your banana leaf packet, admire the different colours and textures, and tuck in!

2. Spot Wild Leopards at Yala National Park
Whilst there are several places around Sri Lanka where you can sight animals in the wild, Yala West (Ruhuna) National Park offers the highest chances of seeing leapords roaming freely. There are wild elephants lumbering through the verdant national park too, and other animals you may see include deer, bears, crocodiles, sloths, jackals, lizards, and peacocks. There are also many bird species, making it a great place for avid ornithologists too. A safari is the perfect way to spot various creatures, and your tour guide in Sri Lanka can act as an extra pair of eyes, pointing out things you may have missed otherwise.

3. Climb Up Sigiriya Rock
One of Sri Lanka's most iconic attractions, Sigiriya Rock is a picturesque and photogenic marvel. The top of the rock is clad in growth that gives it an appearance rather like a patchwork blanket, and the stretching views are sure to blow you away. After you've climbed the 1,200 steps, catch your breath before exploring the remains of an ancient fortress. Sigiriya is also a favourite spot for rock climbing.

4. Go Whale Watching at Kalpitiya
A beautiful peninsula in the northwestern part of Sri Lanka, Kalpitiya was the first place in the country to begin boat trips to spot whales and dolphins. Sail on the sparkling waters and observe fascinating large aquatic life close to your boat. As well as spotting marine life, Kalpitiya's beaches are great for kite surfing, swimming, snorkelling, sunbathing, and relaxing.

5. Explore the Ruins of Anuradhapura
The UNESCO-listed ancient city of Anuradhapura is one of the most splendid sights in all of South Asia. A huge complex, your Sri Lanka tour guide will help you hit the highlights of Anuradhapura, or assist you in digging deeper into the area's history if you have more time to explore. Combining architectural and archaeological marvels, you can look forward to the Bodhi tree, huge dagobas, ruined temples and monasteries, and pools from times gone by. Religious ceremonies are still held at several of the sites.

6. Take a Pilgrimage to the Temple of the Tooth
Located in Kandy, the Temple of the Tooth is one of Sri Lanka's most sacred places. The revered Buddhist temple houses a tooth of the Lord Buddha, which is the country's most significant relic. Contained within a golden casket, you can't actually see the tooth; nevertheless, many pilgrims come to pay their respects and pray before the sacred item. The sprawling complex also has a number of shrines and buildings that are interesting to visit.

7. Relax on Mirissa Beach
Within easy reach of the city's main city of Colombo, Mirissa Beach is popular for an excursion or longer stay. Chill out on the sandy shores or cool down with a dip in the sparkling waters. If you're feeling active, join a snorkelling or diving trip to observe the interesting underwater life or a whalewatching tour for glimpses of the majestic animals. Alternatively, why not have a go at fishing or kite surfing? Stick around until sunset you'll be rewarded with terrific views of the sun going down over the Indian Ocean.

8. Float Through the Skies in a Hot Air Balloon
A hot air balloon flight over the Cultural Triangle is a fabulous way to be completely awed by Sri Lanka's landscapes and building. From the comfort of your basket you'll be able to see lakes, rivers, fields, forests, and various cultural sites from high above.

9. Discover Dambulla Cave Temple
Dambulla Cave Temple is the biggest cave system in the country. The UNESCO-listed site in the central part of the island is also known as the Golden Temple of Dambulla. The enormous rock has more than 80 caves, though the main places of interest can be found in five chambers that make up the temple. The caverns are brimming with statues of the Lord Buddha in different poses, along with a handful of statues of Hindu deities and former kings of Sri Lanka. The caves are also noted for their stretching murals that tell the story of the Lord Buddha's life. Having a Sri Lankan tour guide with you will help you to understand the deep religious and spiritual significance of the site.

10. Drink Tea in Sabaragamuwa
Sabaragamuwa is the biggest tea-growing region in Sri Lanka. Green tea fields carpet the landscapes, and you can visit a tea plantation to learn more about the country's 150-year-long tea-producing history. Of course, you can also sample a cup of locally produced tea too!

From ancient sites, traditional dancing, shopping, and dining on tasty food, to lazing on pristine beaches, joining a wildlife-spotting safari, hiking in lush landscapes, and taking part in a plethora of fun activities, Sri Lanka truly is a place that offers something for everyone.
Image credits: Yala National Park, Whale Watching at Kalpitiya, Ruins of Anuradhapura, Mirissa Beach, the Skies in a Hot Air Balloon, Dambulla Cave Temple © Gayatri Kumar All rights reserved.