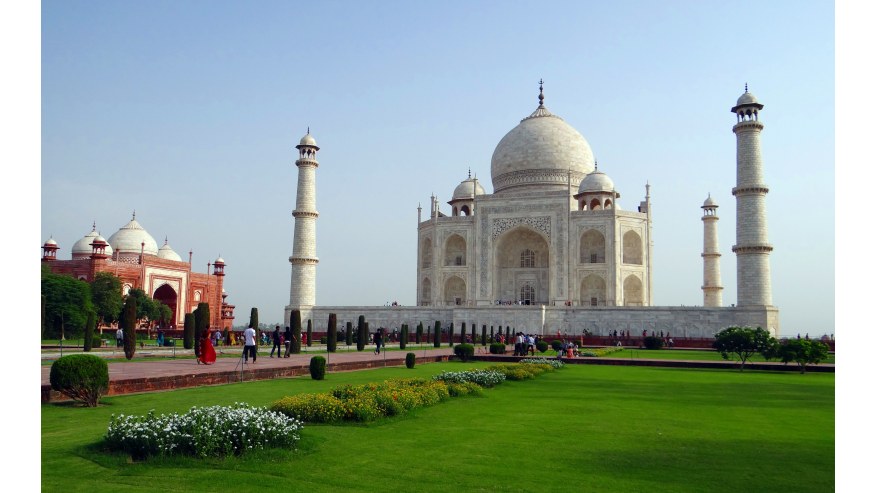 Ruchira Kumar
When you are Indian, its highly likely that you take the Taj Mahal for granted. There are so many other and newer destinations for the tourist, including fancy new eating joints in Delhi itself that MUST be tried! Thankfully my husband insisted ceaselessly that we must find time out of a hectic two-week trip back to India to celebrate our anniversary in Agra. After much moaning, I thought it was easier just to give in to an overnighter.
And I am so glad that he persevered… as usual! First off, the Yamuna Expressway was surreal, an eight-lane highway that gets you to the outskirts of Agra from Delhi within 3 hours. I was awe struck that I could count the number of cars I saw in this time barely on my two hands! And the roads were spotless clean accompanied with all the right signage. The only amusing part of the journey was seeing a big family trying to push a motorcycle and its human occupants over the tall sturdy divider to the fields on the other side! Indian 'jugaad' at its best!

There was no time to stop and check out the eating-places on the highway. Before we knew it, we were in Agra with signs of Taj Mahal appearing immediately. Reaching our hotel next to the Taj Mahal was another story. It felt like it took just as long as our journey till there! All the sights, smells and noises of an Indian town welcomed us in full strength; chaos on narrow streets occupied by vendors, bullock carts and monkeys alike, trucks belching smoke, restless honks aplenty and the smells of burning dung. I do admit that even this madness feeds my soul, but I was truly sad that this city which houses one of the wonders of the world continues to be as messy as it was fifteen years ago, when I visited last.

As our car inched towards the hotel, one eye was on the watch, wondering whether we would make it to the monument before it shut. The other searched desperately for signage for our hotel amidst the cacophony of the billboards of the myriad hotels. India will never disappoint you with its gaggle of impromptu traffic experts; we found our way stopping every few minutes to ask the autowallah, the guy on the bicycle, the roadside vendor!
Finally, after all the settling down at the hotel, we found ourselves at the site of eternal love. I wasn't expecting to be mesmerized. Yes, it was the Taj, yes, it's beautiful, and yes, I've been there before, but I've seen some darned beautiful places in my travels. It takes a lot to wow me!

And yet the first glimpse as one walks through the big doors took my breath away. I don't know whether it is the sheer symmetry, the grandeur and intricacy of the design, the color of the dome reflecting the dimming sunlight… I was at a loss for words. It didn't matter that I was among throngs of people, or with my love by my side. I felt alone and one with something more divine, a higher power. It seems to whisper to you and makes you feel like it stands only for you. Nothing else matters for those moments as you feel the labor of the twenty thousand craftsmen from across Persia, Syria, Iran and India chipping away over 22 years!

Of course, we then took the mandatory photos, Lady Diana style! And visited the mausoleum with its intricate carvings and many colored semi-precious stones from across the world. The Yamuna behind it lies in a state of apathy, and I thought of Shah Jahan sitting across the river in Mehtab Bagh. What he would think of this river today, the course of which was apparently diverted for building the dome!

Given our limited time, there were things we could do, and things we missed. While we enjoyed a fantastic dinner at the Latitude at Radisson and indulged in some unbelievable shoe shopping at Sadar Bazaar, our Agra tour guide's recommendations of the Agra Fort, Fatehpuri Sikri and Ferozabad would have to wait till the next time.

Everything else about that short trip, however, recedes in front of that first glimpse of the Emperor's ode to his soul mate, Mumtaz Begum. The Taj Mahal - lives etched inside me, a glimpse of the Divine. May it stand forever and grow in its beauty!
Ruchira Kumar is a frequent traveller, courtesy her work, courtesy her zest for life! Having seen a lot of new places since her childhood, she returns to Agra after 15 years to pleasantly discover it still has that Wow factor!

Image Details and Licences: https://flic.kr/p/umCuqV (Nadir Hashmi, CC BY-NC-ND 2.0), https://flic.kr/p/v1SsAG (Nadir Hashmi, CC BY-NC-ND 2.0), https://flic.kr/p/2Dq6Er (Paul Ancheta, CC BY-NC-ND 2.0), https://flic.kr/p/woEBv7 (Feng Zhong, CC BY-NC-ND 2.0) Photos: Views from the Taj; the magnificent Taj Mahal (c) Ruchira Kumar; all rights reserved/h2