The Perfect Itinerary For Island Hopping In The Eastern Caribbean
Bridgetown, Roseau, Saint John, Saint Thomas

Nature Tour

Sightseeing Tour

Walking Tour

Surfing Tour

Snorkeling Tour
Few places on Earth conjure images of tropical paradise more than the Caribbean. Whether you imagine blindingly white beaches or waterfall-strewn jungles, you can find them all and more in this string of jewel-like islands. Yet even though elements of such paradise exist in all corners of this region, not all corners are created equally. Within this bio-zone you can find islands ranging from flat and semi-arid to lush and mountainous. The Lesser Antilles, is a spectacular showcase of the latter!
With excellent air connections to the U.S. and frequent visits by cruise ships, St. Thomas – the principal island of the U.S. Virgin Islands - is an excellent place to start your Eastern Caribbean sojourn. Once a sleepy town, the capital Charlotte Amalie is a bustling warren of international shopping venues. Since it sees more than its fair share of tourists, it isn't the bargain haven it once was, but it is still worth a morning's exploration. It is also here where you'll find the lion's share of eateries to fuel you up for your afternoon activities.

It's time then to head to not only one of the best beaches on the island, but among the very best in the world. Located on the northern coast of the island, almost directly across from Charlotte Amalie, is Magen's Bay. This tranquil cove embodies everything you could want out of a tropical beach: powder white sands, swaying palms, a jungle setting and achingly beautiful turquoise water. An afternoon here will serve to wash away your stress and mentally prepare you for the trip ahead. And if you'd rather do some more exploring, Coki Beach isn't far away (still on the north shore, a little to the east) and is popular with tourists for snorkeling and other water-based activities.

In the evening, some of the best spots for nightlife are found at hotels and resorts, particularly those in the Frenchman's Reef area, which is located across the bay from Charlotte Amelie.
Author's note: Caution is advised when traveling the roads after dark.
Now that you've got into the island mindset, make your way to the eastern port of Red Hook to catch a ferry to the nearby island of St. John. This jungle-clad jewel is far more secluded and laid back than St. Thomas, with a large portion of its acreage dedicated to the Virgin Islands National Park.
Arriving at Cruz Bay, just a short taxi ride away lies the island's showpiece beach: Trunk Bay. Once again you'll find yourself sandwiched between the lush greenery of the interior and the azure perfection of the gentle cove.

If you find that there are still too many people around for your liking, move another ten minutes or so down the coast to Cinnamon Bay, which is the longest beach on the island and located within the boundaries of the national park.

In between dips in the beckoning water, you can also check out the ruins of an abandoned sugar mill for a glimpse at some of the island's early history. Of course, you could always just rent your own transportation and discover the many idyllic beaches and coves that seem to appear around every bend in the road–there are plenty!
Not to be confused with the more well-known Dominican Republic located away to the northwest, this tiny island nation, also called the Natural Island still hasn't appeared on most traveler's radars and thankfully has not been assaulted by mass tourism.
Take an hour or two to browse your way through the colorful capital Roseau, where vendors are less pushy and the town has a more genuine feel than other more cosmopolitan cities in the region.

You will want to spend the balance of your day taking in the island's natural splendors, of which there are many. If you are a nature enthusiast and in decent physical shape, engage a hiking guide to the Titou Gorge set deep inside the Morne Trois Pitons National Park, the latter being a UNESCO World Heritage Site itself. This slot canyon in the rain forest is an explosion of green, and you can splash your way through its refreshingly cool water as waterfalls and vegetation drip all around you. Getting there requires a vigorous trek through the jungle and a healthy sense of adventure. This is nature in the raw and arguably one of the most magical settings in the Eastern Caribbean. Apparently Hollywood thought so as well, since the gorge was the film location for a harrowing action scene in the second installment of the Pirates of the Caribbean franchise, Dead Man's Chest. You might remember it as the scene with the dangling wooden globes, though don't expect them to still be there.

If you're not feeling up to that kind of exertion, you can still have your taste of Dominica's natural beauty not far off the road by visiting Emerald Pool, nestled in the mountainous interior. This is a tranquil pool of emerald waters at the base of a breathtaking waterfall. Bring your swimsuit and lose yourself in the cool waters and gorgeous setting right out of a travel brochure.
Moving your way down to the Windward Islands, the island nation of St. Lucia could rightly be considered as Dominica's more-developed cousin. Long the realm of all-inclusive resorts, St. Lucia offers a great mix of surf and turf options for all budgets and fitness levels.
The most iconic image of St. Lucia is without a doubt the towering peaks known as Les Pitons – two volcanic cones located near the town of Soufriere that seem to rise almost vertically from the water. If volcanoes (and convenience) are your thing, right nearby is Mt. Soufriere, the famous "drive-through" volcano where you can actually drive your car through a crater and explore some of the bubbling pools (and smells) that surround it.

At Diamond Botanical Gardens, admire the impressive Diamond Waterfall and native tropical flora, as well as melt your cares away at the Diamond Mineral Baths, where for a fee you can seek to cure and restore in its healing, and consistently warm waters.

If all that sounds like too much effort, you can always spend your day at one of the many resorts that dot the island by purchasing a day pass. And Rodney Bay, set a little north of the capital Castries, is a popular area once the sun goes down for those seeking a little nightlife.
Straddling the calm waters of the Caribbean and the heavy surf of the Atlantic is the island nation of Barbados. Known for its luxury resorts, you can end your trip with equal doses of beach and history.
Start your morning by exploring historic Bridgetown. Not only is it the capital, but also a UNESCO World Heritage Site in recognition of its British colonial architecture and impressive garrison. If shopping is more your speed, you'll enjoy the department stores and duty free shops on Broad Street and around. And while you're in town, you might as well stop by the massive Baobab Tree in Queen's Park for a photo opportunity.

For your last afternoon at the beach, you have a wealth of options to choose from. You can actually choose a beach that goes with your mood. The west coast is where you can find calm, turquoise waters perfect for snorkeling and taking a dip. The wilder east coast is more suited for beachcombing and scenic touring. For something in the middle, you can head down to the southern coast, where you can alternate between swimming, snorkeling, and even windsurfing. Any way you slice it you can find a beach that is "just right" for you and a perfect ending to your tropical getaway.
For a certainty, a trip to the Eastern Caribbean is a journey to the best the region has to offer. Whether your idea of a vacation is trekking in the jungle or idling on the beach, there's an island or itinerary that will meet your needs and leave you longing to return. If you have five days at your disposal (or a cruise ship with the same itinerary), get yourself a tour guide to organize your transportation and sightseeing of the best of the best in this tropical playground.
Bridgetown, Roseau, Saint John, Saint Thomas

Nature Tour

Sightseeing Tour

Walking Tour

Surfing Tour

Snorkeling Tour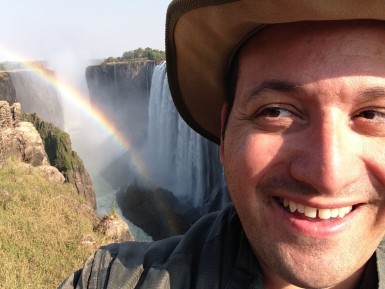 Contributed By : Ben Pastore
TourHQ Experiences
This itinerary is contributed by Ben, an experienced traveler. If you request this tour, different guides will give you their versions of this itinerary. Be sure to confirm with them on what's included before booking.