A Little Slice Of Paradise Called Holbox
Isla Holbox, Isla Mujeres, Isla Pasión

Nature Tour

Culture Tour

Sightseeing Tour
A 20-minute ferry ride from Chiquila will take you to Isla Holbox that forms part of the Yum Balam Biosphere Reserve, located north of the Yucatan Peninsula. Its sandy streets, hammocks on the sea, laid back atmosphere and excellent ceviche, is what lures visitors from all over. Expect to relax on the isle's white sand beaches, sight many bird species and indulge in some exciting boat trips over this 2-day tour itinerary.
Cabo Catoche - Santa Paula - Holbox Island
Should you visit Holbox from May through mid-September, take advantage of the season by swimming with whale sharks. Book a boat tour, which usually leaves at 7am, for an ocean safari where you have an opportunity to swim with whale sharks. Dolphins, sea turtles, and stingrays can be encountered along the way.

The usual whale shark tour includes a trip to Cabo Catoche and Santa Paula. Cabo Catoche is a great place to swim with turtles and manta rays. After snorkeling, head to Santa Paula from a nice swim in shallow waters. This place is a unique expression of paradise that is not highlighted in tours, but does more justice than the photos taken of this area. The boat will enter the calm lagoons of Santa Paula slowly so you can watch the birds pass by. You will pass through mangroves and see its landscape with a mix of shallow and deep water. Beautiful colors welcome you, and the white sands of Santa Paula illuminate through the crystal-clear waters every few meters. You then dock at a spot where you can walk on shallow waters and let the soft white sand tuck in between your toes.

Before heading back, ask your boatman to buy a fresh catch, if it is not included in the tour, and treat yourself to a sumptuous ceviche.
Here's a tip for you: When it is not whale shark season, negotiate a lower rate for these two places with your tour provider since you won't be doing the swimming with the whale sharks.
The boat ride is 2 hours per way. A group tour would cost approximately $150 per head.

Back in Holbox Island, if the moon is not bright, your tour guide will point out bioluminescent planktons. You will need to run very fast on the water to see them; a magical moment that shouldn't be missed.

Finding dining options in Holbox are easy as it is only 8 blocks wide and 12 blocks long.
Isla Pajaros - Isla Pasión - Cenote Yalahau
Today your tour guide will treat you to the classic three islands tour to visit Isla Pajaros, Isla Pasión, and Cenote Yalahau tour. Rich with more than 140 species of birds, Isla Pajaros is a great site for bird watching. Some of the birds one can expect to see are white and gray pelicans, wild ducks, herons, white cranes, and if the season is right, pink flamingos. Isla Pasión has great white sandbars, while the Yalahau cenote is just the right place for a refreshing dip. For the Cenote, the boat will dock on land, and a short walk through a narrow pathway will lead to the cenote. There is a tower next to the cenote which, when climbed reveals a view of the grassland and mangroves.
Here's a tip for you: There are bubbles in the center of the cenote. Bring snorkels if you would like to see where to bubbles come from. Also, bring money because you will surely find locals who sell fresh fish.

To end a beautiful day, watch the sunset from the white sand beach of Holbox Island.
The best way to travel around the island is with their taxis in the form of golf carts, or by renting a bike. Let your tour guide know your preference!
Isla Holbox, Isla Mujeres, Isla Pasión

Nature Tour

Culture Tour

Sightseeing Tour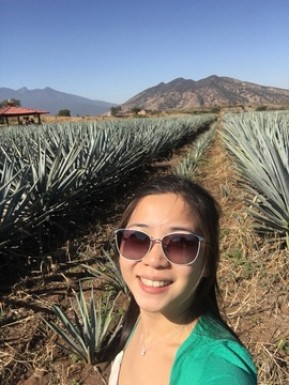 Contributed By : Karen Chua
TourHQ Experiences
This itinerary is contributed by Karen, an experienced traveler. If you request this tour, different guides will give you their versions of this itinerary. Be sure to confirm with them on what's included before booking.