A Quick Taster Of Rio De Janeiro
Rio de Janeiro

Nature Tour

Sightseeing Tour

Walking Tour
After several years of being in the international spotlight as host of the World Cup and Olympic Games, Brazil's premier city Rio de Janeiro has wowed millions of people the world over with its iconic images and tropical appeal. Yes, it is a frenetic place where one can easily get swept up in a whirlwind of adventure activities, dancing, and what could easily be described as the biggest party on the planet during Carnival each year.
Most international visitors will arrive via the Rio de Janeiro Galeao Antonio Carlos Jobim International Airport (GIG) located in the northern region of the city. Since this coastal city is far away from pretty much everywhere else, you'll likely be tired on arrival.

After checking in to your accommodations, head over to either Ipanema or Leblon beach for some prime relaxation.

Making up the southern border of the city, this contiguous strand of powder soft sand facing the Atlantic will melt off your fatigue. A less crowded (and rambunctious) alternative to Copacabana Beach, you will find yourself enjoying sun and surf in (relatively) peaceful surroundings.

To get in the local vibe, order yourself a Caipirinha, a powerful drink consisting of some locally-made cachaça (a sugarcane based spirit) mixed with fresh lime juice. Think of a high-octane mojito without the mint and you'll get the picture. And when you've de-stressed enough, stick around the area for some upscale shopping and fine dining opportunities.
If the weather is clear, your tour guide will first direct you to Urca to catch the tram ride up to Sugarloaf early in the morning. Your first stop will be halfway up on Morro de Urca.

From there you can make your way to the top of Sugarloaf Mountain itself, where you'll be treated with gorgeous ocean views on one side, and an unmatched urban panorama on the other. You'll easily see why the harbor of Rio de Janeiro was designated one of the Seven Natural Wonders of the World.

Once you've taken your time absorbing the views, come back down for some more beach time in Copacabana. Less upscale and more touristy than Ipanema and Leblon, this famous strand with its signature mosaic walkway is a must-see for any globetrotter, and has great places to dine and shop before making your way back to your hotel.
Botanical Gardens - Corcovado Mountain
Start your day early and make your way to Rio's impressive Botanical Gardens (Jardim Botanico), part of the Tijuca Rainforest – the largest urban rainforest in the world. Here you can observe a wealth of flora and fauna including orchids, toucans and much more.

Once you've had your fill, make your way up nearby Corcovado Mountain for another of Rio's prime attractions. Most identifiable for its larger-than-life statue of Christ the Redeemer, this peak offers a dizzying look at Rio's urban tapestry, with ultra-rich high-rises looming over a backdrop of dilapidated shantytowns (favelas) hanging precariously from impossibly steep cliffs. You can again marvel over incomparable harbor views from this lofty perch before making your way back down.

Sadly, all good things must come to an end, but while there's still plenty more to see and do, this three-day itinerary through Brazil's most fascinating city is an excellent and efficient way to enjoy the best there is on offer.
But for those interested in seeing Rio at a more leisurely pace, opportunities abound to see the "Wonderful City" by hopping from one of oasis of peace to another.
Rio de Janeiro

Nature Tour

Sightseeing Tour

Walking Tour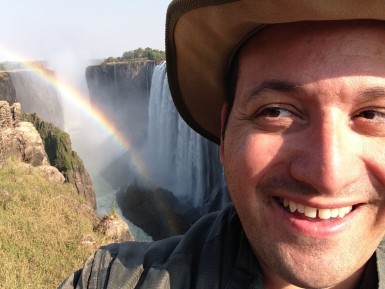 Contributed By : Ben Pastore
TourHQ Experiences
This itinerary is contributed by Ben, an experienced traveler. If you request this tour, different guides will give you their versions of this itinerary. Be sure to confirm with them on what's included before booking.