5 Days Culture tour itinerary for peru: Tour The Iconic Incan City And Rainbom Mountain
Cusco, Machu Picchu, Písac, Ollantaytambo

Trekking Tour

Archeology Tour

Culture Tour
Get natural landscapes as well as cultural history on this tour. Be rewarded with the Inca city which is UNESCO World Heritage Site, see how the stunning Rainbow Mountain lives up to its name, and visit a village in the Sacred Valley known for its Inca ruins.
Pick up to the airport / city Tour
Receive a reception at the airport, and transfer to the hotel, where you´ll have a chance to get acclimatized, so as not to suffer from altitude problems.

Start your visit at 1:40 p.m. with Cusco´s Main Square or Huacaypata and, directly afterwards, to the following tourist sites:

The Qoricancha´s Temple: Santo Domingo's Church and Monastery were built upon the Incan foundations of the Qoricancha´s Temple, where Inti, the Incas´ Sun God, was worshipped, and some of its original walls are still conserved. This is the place where the Great Inti Raymi Celebration begins, every 21st of June, to honour Inti, on the Winter Solstice.

Sacsayhuamán´s Temple, Qenqo´s Temple, – Puca Pucara´s Military Center, Tambomachay´s Temple:

Return to Cusco and enjoy a free evening.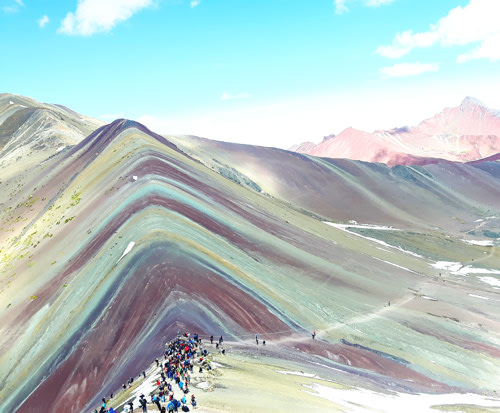 Get picked up at your hotel, between 4:30 and 5:00 a.m., to go on a three-hour trip, approximately, to the village of Cusipata.

Enjoy a varied breakfast once there.

Start your adventure from, with a 1 hour and half hike, during which you'll appreciate beautiful landscapes full of streams, mountains, and snowcapped peaks, as well as of flora and fauna.

Get to your so-longed-for destination which is Vinicunca or the Rainbow Mountain, with adequate time to immortalize this magical place. With pictures and in memory and, along with that place, you'll also be able to appreciate views of snowcapped Mount Ausangate, venerated by the Incas as the Cusco region´s Tutelary Apu or Sacred Mountain.

Head back down to Chilca, where you'll have lunch, after having lived that magical experience.

Return to the city of Cusco, to get there around 6:00 p.m.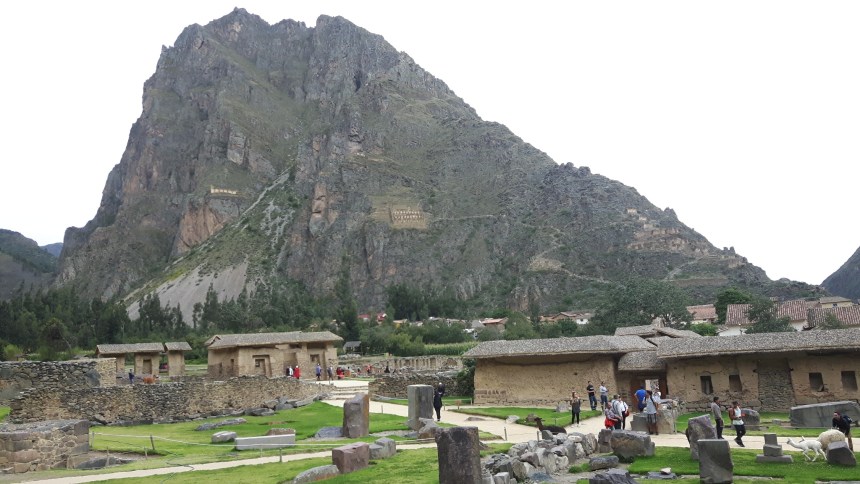 Get picked up at your hotel around 8:20 a.m., to go to Corao, and then, on to the Vilcanota River, for a guided visit of the Incan City of Pisac, with its wonderful panoramic views over the Sacred Valley.

Visit Pisac's typical market, where you'll have the opportunity to get to know its local inhabitants´ customs, from up close.

Have lunch at a local restaurant, in the Incas' Sacred Valley and

Visit in the afternoon the Fortress of Ollantaytambo, built to watch over the access to that part of the valley, and to protect it from possible invasions of jungle populations.

Take the train from Ollantaytambo that will take you to Machupicchu Pueblo, to spend the night at a local hotel.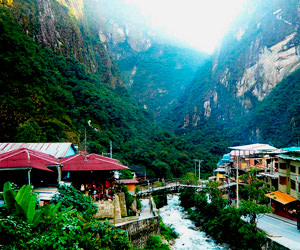 Wake up from an overnight stay in Machupicchu Pueblo, and according to the guide´s indications and visit shift of Machu Picchu, you´ll go to the bus station, to board a tourism bus that will take you up a zigzagging road, for about 30 minutes, to get to the Incan City of Machu Picchu; Peru´s World Wonder and UNESCO´s World Heritage Site.

Arrive at the city of Machu Picchu, and go on your guided visit of the site, through the Main Square, Temple of the Sun, Solar Calendar, Royal Residence, Temple of the Three Windows and other architectural compounds of interest, for a little over two hours.

Have some free time, to explore the Incan city on your own.

Take a bus back down to Machupicchu Pueblo, to have lunch and take a stroll around the village.

Get to the railway station 30 minutes before your train´s departure, to go to Ollantaytambo.

Transfer to a vehicle waiting, to take you to the city of Cusco (Regocijo Square).

Go in a taxi to your hotel, to stay there overnight.

Eat breakfast at the hotel and, at the indicated time, you will be transferred from your hotel to the airport. If you have a flight in the afternoon or at night, the guide can schedule a service with additional cost.

415 USD Per Adult , 390 USD Per Child (* Children: 4-10 years)
Transfers: Airport – Hotel – Airport.

Tourism transportation vehicles for tours.

Bus tickets: Machupicchu Pueblo – Machu Picchu – Machupicchu Pueblo.

English or Spanish speaking professional Peruvian tour guide.

3 hotel nights in Cusco.


1 hotel night in Machupicchu Pueblo.

4 breakfasts at the hotel.

Tourist train: Ollantaytambo – Machupicchu Pueblo – Ollantaytambo.

Buffet lunch in the Sacred Valley.
Entrance ticket to the Qoricancha: S/. 15.00 Soles.

Entrance ticket to the Rainbow Mountain: S/. 10.00 Soles.

Snacks and tips.

Meals, after coordination with the guest.

General tourist ticket (entrance to City Tour and Sacred Valley)



Hotel Cusco: Hotel Sambleña Inn o Hotel Inkas Machupicchu Inn.

Hotel Machupicchu: Hotel Gran Paititi.

This program, offered by Aremika Travel, is a visit to the main tourist attractions in the City of Cusco, which you can not miss knowing about natural landscapes as well as its cultural history, take advantage and come to visit.

Cusco, Machu Picchu, Písac, Ollantaytambo

Trekking Tour

Archeology Tour

Culture Tour

Contributed By
Other Tours by this guide