1 Day Shark Diving tour itinerary for Cape Town: Great White Shark Cage Diving Viewing Tour
Cape Town

Shark Diving Tour
One of the most exhilarating nature-based experiences in Cape Town! get close to the mighty great white shark which comes with an additional adrenaline thrill. Boat based viewing is a truly memorable experience. Also, climb into the cage for an eye-to-eye encounter.
Great White Shark trip - Gansbaai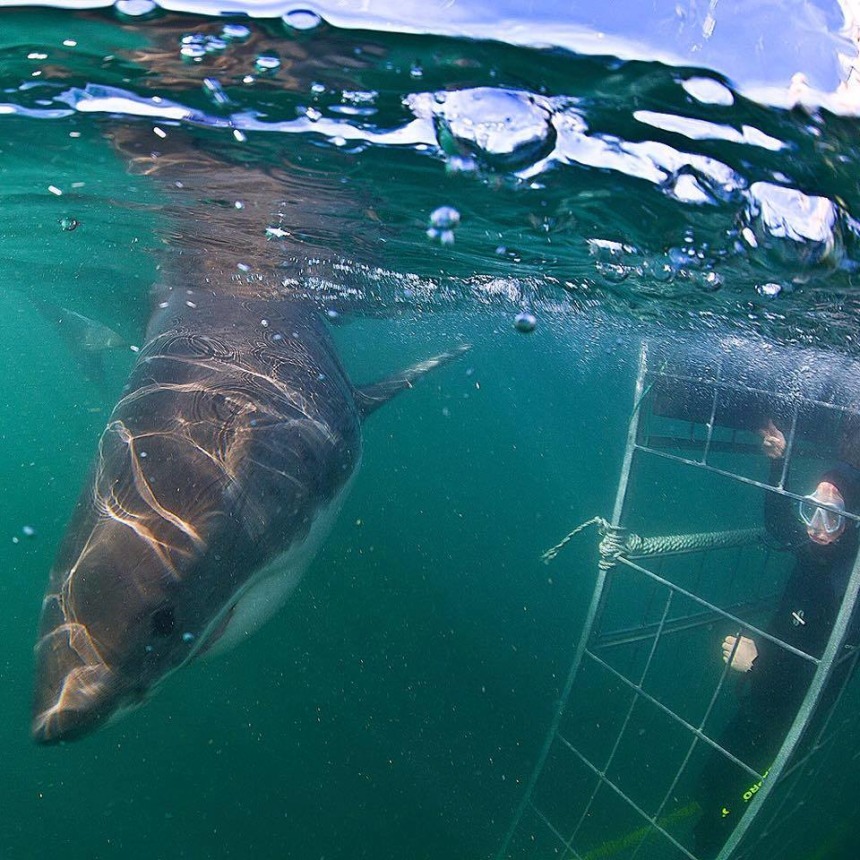 On the day prior to your shark trip, you will be sent confirmation details with a specific time for pick up. This time is only confirmed the day before as it varies according to the sea conditions/weather etc.

You will be collected from your accommodation for the drive to Gansbaai, a scenic two-hour drive away.

A relaxed breakfast awaits, during which you will be briefed on the day's activities.

You will find a number of facilities to help make your trip great, such as gopro rental, souvenir shop and educational points.

A short walk across the road to the harbour and you will board the boat and set off for Shark Alley, approx 20 mins away, where you will drop anchor and prepare to dive.

Our staff is equipped to ensure your entire experience is safe and enjoyable and in addition to being a thrilling experience, you will likely find it very educational too.

The cage is suspended alongside (and tethered to) the boat and remains above water (and below of course!) at all times. It can take 5 or so people at a time and with approx 18 people in the group you will have plenty of time in the water (but viewing from the boat is also great!)

Another marine life is often observed, especially on the trip back when you will pass Dyer Island and Geyser Rock, home to seals, penguins and a wide variety of birds.

Once back on shore, you will warm up with a light lunch at which time you might like to watch the DVD of that days action and decide whether to purchase a copy.

The scenery on your journey home might provide a few photo opportunities and detours depending on your driver, after which you will be returned to your hotel with time to spare for other activities.

This tour can be combined with other points of interest such as craft beer tasting, whale watching or a visit to a penguin sanctuary.
Included in this trip:
Return transfer from Cape Town (Central, Atlantic Seaboard area).

Breakfast, lunch and light refreshments.

All diving equipment.

A customized boat with galvanized steel cage, qualified and knowledgable staff and all required industry licenses are, of course, always included.
There is a videographer on board each trip, should you wish to purchase a DVD.

Alternative food and drink options may be extra.
Cape Town

Shark Diving Tour
Contributed By
Departures
This tour is offered throughout the year.