2 Days Nature tour itinerary for Marrakech, Toubkal & Imlil: Trek Up Rocky Mountain Paths For Landscape Views
Marrakech, Toubkal, Imlil

Nature Tour

Trekking Tour

Camping Tour
Climb Mount Toubkal, (4,167 m) the highest peak in the Atlas Mountains, Morocco, North Africa and the Arab World. Traverse through floodplains & villages to get to to the summit of this natural wonder and see panoramic views from the top.
marrakech to Sidi Chamarouch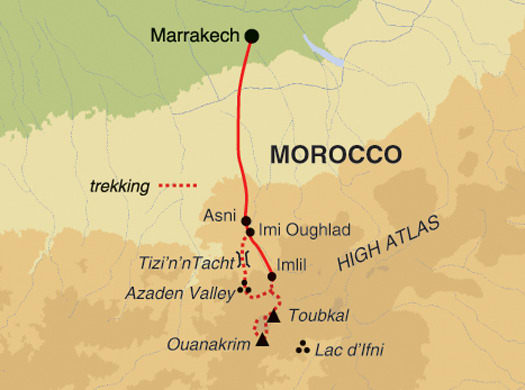 Start this adventure with a 2-hour drive from Marrakech.

After transferring to the little village of Imlil, begin the trek.

Heading along the Mizane Valley, first passing by the village of Aremd, and then proceed towards the shrine of Sidi Chamarouch.

Then, continue east and cross the floodplains to trek along mule tracks and up into the high rocky cliffs above the valley.

Crossing the river, eventually come to the pastoral shrine of Sidi Chamarouch, which attracts tourists and pilgrims.

From here, the trail continues to climb steadily, snaking, and zigzagging its way up to the snowline and the Toubkal Refuge (3206 meters), where you will camp for the night.

Sidi Chamarouch to toubkal mountain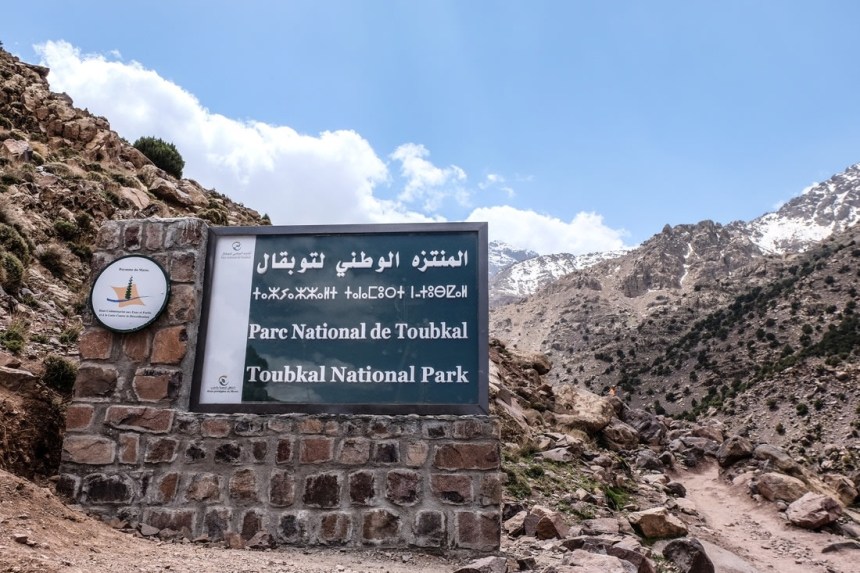 Early in the morning, make an attempt to reach the summit of Jebel Toubkal, the highest peak in Northern Africa (4,167 metres).
The route takes climbers up the south cirque, crossing the stream above the refuge. The trek is relatively straightforward, but the scree and the altitude will make it a bit tricky in some parts. The landscape along the way is spectacular and absolutely breathtaking.

Upon reaching the summit, see that it has all been worth-while. Get unrestricted views in every direction, from the Marrakesh plains to the High Atlas mountain ranges in the north and as far south as the Anti-Atlas and the Sahara.

Stay at the top for a while before retracing steps down the mountain.

Head back towards Imlil and then transfer back to Marrakech.
End of services.

Fully Escorted by local mountain guide, muleteers, and cook.

Accommodation: 1 night in Toubkal Refuge or in tents depending on the weather.

All Meals: breakfast, lunch and dinner included.

Transport: minibus or 4x4 for transfers to / from High Atlas.
What to Bring:
For Atlas Trekking, you need to prepare as you would for walking in any mountain region; it can be warm and sunny during the day but the weather in the mountains can quickly change from sunshine to snow and cold winds (autumn through late spring). Please do not leave any rubbish behind you; carry out what you carry in.

Atlas Treks are tailored to match the season and your level of fitness. You have the choice of basing yourself in Berber Guesthouses, from where you can take daily walks, or you can do Atlas Mule Trek for 2+ days. With mule treks, you usually have the choice of staying at Berber Guesthouse/with families or also do wild camping in 2-person tents.

In addition to regular packing, here is a short check list for Atlas Trekking:
Clothing:
Good walking boots and socks.

Comfortable shoes/slippers for camp/guesthouse.

Trekking pants.

Lightweight waterproof over-trousers / rain-pants.
Marrakech, Toubkal, Imlil

Nature Tour

Trekking Tour

Camping Tour
Contributed By
Other Tours by this guide