10 Days Archeology tour itinerary for sri-lanka: Enjoy The Ultimate Grand Circle Tour
Anuradhapura, Colombo, Dambulla, Ella, Galle, Kandy, Mirissa, Nuwara Eliya, Polonnaruwa, Sigiriya, Tissamaharama, Yala National Park

Archeology Tour

Driver Tour

Sightseeing Tour
This tour covers most of Sri Lanka's ancient treasures. Visit the ancient capitals, world heritage sites, temples and more. Feast your eyes on the green countryside and sunny beaches too.
You will be met at CMB International Airport and taken to Negombo. Pick up will be in a comfortable, late model van with AC and bottled water to refresh you.

You will travel in comfort, with plenty of room for 4 passengers and baggage.

Assistance with currency conversion, baggage pick up, or whatever else we can do to make your arrival day pleasant.

You will be taken to Negombo to check-in at your reserved accommodations.

If time and energy levels permit, we will visit the famous Fish Market in Negombo.

Overnight in Negombo.




You will be picked up from your accommodations at the agreed time, and we will journey north to Anuradhapura.

Anuradhapura is the first ancient capital of Sri Lanka which lasted for the longest period as the capital in the country. It is important to the locals for religion, history, and culture and world-famous for its well-preserved ruins of the Great Sri Lankan Civilization. The Civilization which was built upon this city was one of the greatest civilizations of Asia and in the world. This ancient city of Sri Lanka, sacred to the Buddhist world, is surrounded by monasteries covering sixteen square miles and is one of the world's major archaeological sites. It was deemed a UNESCO World Heritage Site in 1982.

Overnight in Anuradhapura.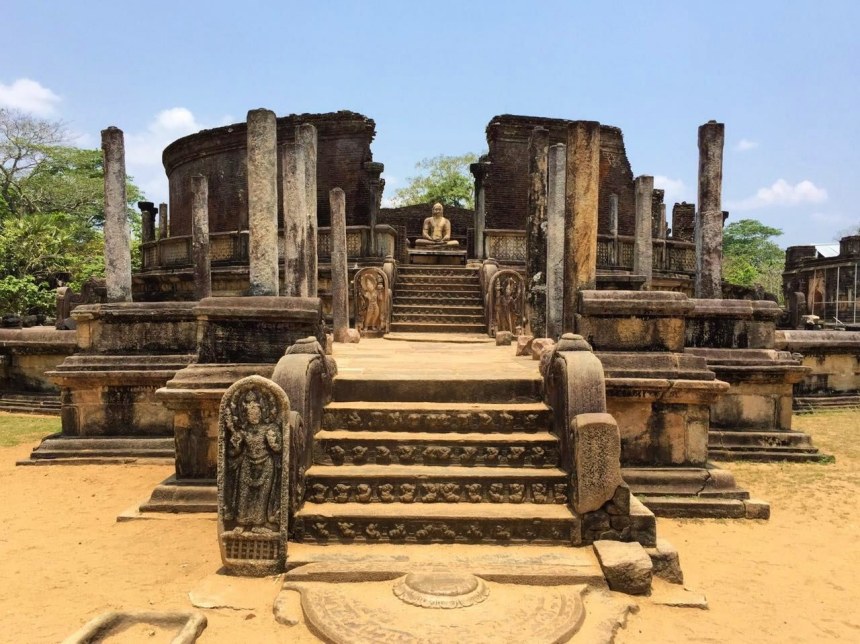 We will spend the entire day exploring Polonnaruwa which was the second capital of Sri Lanka after the destruction of Anuradhapura in 993.

It comprises, besides the Brahmanic monuments built by the Cholas, the monumental ruins of the fabulous garden-city created by Parakramabahu I in the 12th century. Within a rectangle of city walls, stand palace buildings and clusters of dagobas, temples and various other religious buildings. A scattering of other historic buildings can be found to the north of the main complex, outside the city walls and close to the main road to Habarana and Dambulla. Its undeniable beauty has been documented in numerous videos and films, such as Duran Duran's 'Save a Prayer'. The ancient city of Polonnaruwa was declared a UNESCO World Heritage Site in 1982.

Overnight in Polonnaruwa.
We will visit Sigiriya or Lion's Rock - an ancient rock fortress located in the northern Matale District near the town

of Dambulla. The site is of historical and archaeological significance. It dominates a massive column of rock nearly 660 ft high.

According to the ancient Sri Lankan chronicle, the Culavamsa, this site was selected by King Kasyapa (477 – 495 CE) for his new capital. He built his palace on the top of this rock and decorated its sides with colourful frescoes. On a small plateau about halfway up the side of this rock, he built a gateway in the form of an enormous lion. The name of this place is derived from this structure.

The capital and Royal Palace was abandoned after the king's death. It was used as a Buddhist monastery until the 14th century.

Sigiriya has been said to be one of the best-preserved examples of ancient urban planning. It was named as a UNESCO World Heritage Site in 1982.

We will also visit Dambulla Cave Temple which is the largest and best-preserved cave temple complex in Sri Lanka. The rock towers 160 m over the surrounding plains.

There are more than 80 documented caves in the surrounding area. Major attractions are spread over five caves, which contain statues and paintings. These paintings and statues are related to Gautama Buddha and his life. There are a total of 153 Buddha statues, three statues of Sri Lankan kings and four statues of gods and goddesses. The latter include Vishnu and Ganesha. The murals cover an area of 2,100 square metres (23,000 sq ft).

Depictions on the walls of the caves include the temptation of the demon Mara and Buddha's first sermon. Prehistoric Sri Lankans would have lived in these cave complexes before the arrival of Buddhism in Sri Lanka as there are burial sites with human skeletons about 2700 years old in this area, at Ibbankatuwa near the Dambulla cave complexes.

Overnight in Dambulla.

We will visit Kandy and the Tooth Temple.

Spend some time in the beautiful Royal Botanical Gardens.

Overnight in Kandy.
Today, we will visit the Tea Factories of Nuwara Eliya, and also the Pink Post Office.

Overnight in Nuwara Eliya.
We will visit Horton Plains, and travel by train from Nuwara Eliya to Ella.

Take photos of the Mini Adam's Peak and visit the Rawana Cave.

Overnight in Ella.
YALA NATIONAL PARK - SAFARI
We will travel from Ella to Yala National Park.

Safari in Yala National Park.

Overnight in Yala.
We will travel from Yala to Mirissa for Whale Watching and a relaxing day by the sea.

Overnight in Mirissa.
On your final day of the tour, we will travel from Mirissa to Galle by train along the seashore.

In Galle, we will visit the Galle Fort and the beach, then continue to Colombo for a city tour.

At the end of the tour, we will be a drop off at a Colombo hotel of your choice or the CMB International Airport.
599 USD Per Group (* Price is PER TOUR not per passenger. 1-4 passengers same price. 10 day DRIVING TOUR. $599.00 for Guide and Vehicle.)
Private Guide with Private Vehicle.

Tour vehicle: Latest model comfortable passenger van, with AC and plenty of baggage storage.

The price includes travel to the points of interest as mentioned in the description. It covers the entire cost of the guide and the vehicle for the 10-day tour.

Driver's meals and accommodations.

Fuel, taxes, tolls, insurance and parking.

Passengers entrance fees.

Passenger accommodations and meals are NOT included.
We are happy to recommend local accommodations if you wish. Accommodations vary from $40 - $100 USD per night for 2 adults.

Some recommended accommodations are homestays, like Airbnb rentals. Most hotels and homestays come with a light breakfast. You may also book your own accommodations according to the scheduled overnight stops.

If you are flexible, we are happy to adjust this schedule to your specific requests if at all possible.

The tour price of $550.00 USD is based on drive time and kilometres.

Changes may be possible, but they may also result in a higher price.

Shorter tours, with fewer kilometres, could also be possible.

Please let us know what you need, and we will try to accommodate your wishes.

Payment: Cash Only - USD

30% on day 1 * At CMB Airport pick-up

40% on day 5

30% on day 9.

Anuradhapura, Colombo, Dambulla, Ella, Galle, Kandy, Mirissa, Nuwara Eliya, Polonnaruwa, Sigiriya, Tissamaharama, Yala National Park

Archeology Tour

Driver Tour

Sightseeing Tour
Contributed By
Other Tours by this guide
From USD

499

7 Days

Visit the sacred Kingdom of Kandy, travel through the tea fields and plantations, ride the famous train from Nuwara ...

From USD

599

7 Days

A true Sri Lankan Beach Getaway, the tour takes you to the coastal towns of Hikkaduwa, Galle, Mirissa, and Tangalle. Adventure ...

From USD

599

10 Days

See and experience Sri Lanka's heritage and religious sites, and meet its wildlife in the safari at Yala National Park. Also, ...