1 Hour History tour itinerary for Amman & Jerash: Come Across Ancient Temples & Theaters
Amman, Jerash

Archeology Tour

Photography Tour

History Tour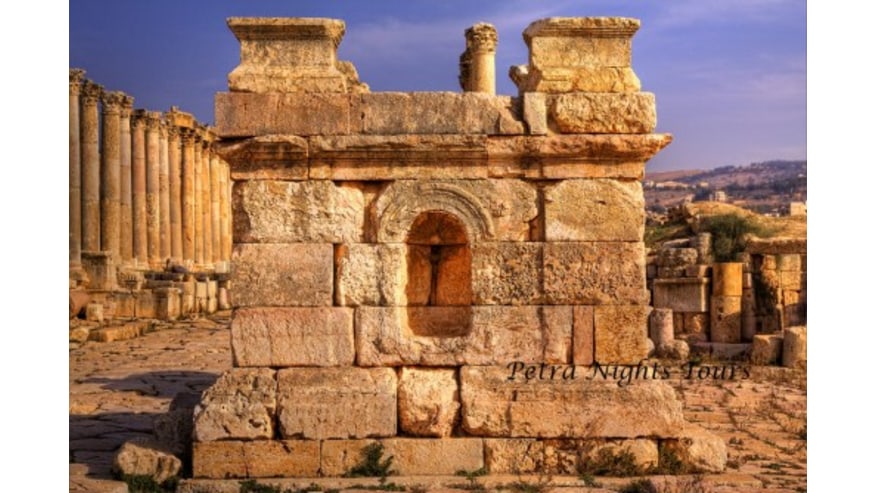 Visit the well-preserved remains of the Greco-Roman city Gerasa like the Forum and the Temple of Zeus. You will also explore the Citadel Hill with remains from 3 different periods, the Roman Theatre, and Archaeological Museum in the Jordanian capital.
Drive 50 km in the north to Jerash, the well-preserved city of the Roman Empire, often called Pompeii of the East. Initially built by Alexander the Great, the town started to prosper after the Roman conquest, and was one of the Decapolis cities in northern Jordan.

Visit Hadrian's Arch, built in 130 AD to honor the visit of Emperor Hadrian, with your Jordanian tour guide.

Pass the Hippodrome offering space for 15,000 spectators, the impressing Forum, continue to the Temple of Artemis, which columns are 12 meters high and each drum weights 20-40 tons. Other highlights are the Colonnaded Street and the Nymphaeum.

Head back to Amman.

Explore the Citadel Hill with remains of the Hercules Temple and the Umayyad Palace as well as the Archaeological Museum.

In downtown, see the large Roman theatre from the 2nd century and the traditional souks.

Return to Amman.
89 USD Per Adult (* 4 Persons (Sharing Trip))
99 USD Per Adult (* 3 Persons (Sharing Trip))
109 USD Per Adult (* 2 Persons (Sharing Trip))
183 USD Per Adult (* 1 Person)
Transport by private, air-conditioned, new vehicle with English speaking driver.


Private English speaking spot guide in Jerash (about 1 hour).


Entrance fee Jerash, Amman Citadel & Roman Theatre.


Mineral water on board of the vehicle.



Meals and beverage not stated.

Tips and private expenses.
On this private tour, you visit the Roman ruins of Jerash and Amman downtown. In Jerash, one of the cities of the Decapolis, you see the well-preserved remains of the Greco-Roman city Gerasa like the Forum and the Temple of Zeus. It is a one hours' drive back to Amman to see in downtown the Citadel Hill with remains from 3 different periods and the Roman Theatre.

Trip Duration: Approximately 6-7 hours

Trip Type: Private Tour by Air-conditioned Vehicle

Trip Runs: Everyday

Tour Starts / Ends: Amman Hotel or Amman Residential

Pick up time: 08:00 am (Flexible)
Amman, Jerash

Archeology Tour

Photography Tour

History Tour

Contributed By
Other Tours by this guide