1 Day Trekking tour itinerary for Haifa: Explore Rosh Hanikra And Arch Cave In Israel
Haifa

Trekking Tour

Cave Tour

Ziplining Tour
Visit Rosh Hanikra and the Keshet Cave in the Galilee, considered to be among the most beautiful natural wonders in the land of Israel. The shallow cave allures many extreme sports enthusiasts who come here to rappel from the arch down to the cave floor below.
ONE DAY TOUR ROSH HANIKRA AND THE ARCH CAVE
Rosh Hanikra is an incredible geological creation at the farthest point north on Israel's Mediterranean Coastline in the Western Galilee region. The grottoes and caves at Rosh Hanikra are the results of thousands of years of the power of the sea.

After a short yet exhilarating cable car ride down the cliff face, visitors can explore these incredible formations for themselves, following trails throughout the year. Just meters from Israel's border with Lebanon, this is an amazing and beautiful point that you will not regret visiting.

Within the grottoes at Rosh Hanikra is a story of love between the sea and the mountain. The sea makes unusual noises as the jagged rocks force it in different directions, slowing and speeding it up, and pushing it into different areas of the grotto, whilst the carved formations create unusual and very shapes and light formations as you move about.

The Arch cave or the Keshet Cave is also known as the Rainbow cave in the Galilee, and is one of the most beautiful natural wonders in the land of Israel. Not only is the large natural arch with the shallow cave beneath it a pleasure to see, it also attracts hundreds of extreme sports enthusiasts who like to rappel from the arch down to the cave floor below.

For those really looking for a thrill, dropping off the side of the cave and swinging under the arch with just the rope between you and the forests way down below is an unforgettable experience.

Embedded in the rock are anchors for fastening ropes and there is a sturdy metal guardrail as well, both for assisting in the rappelling and to keep bystanders safe from plummeting downwards. The drop to the floor of the cave is between 40 and 50 meters (130-165 feet) and from the bottom, there is a windy, adventurous trail back up to a parking area.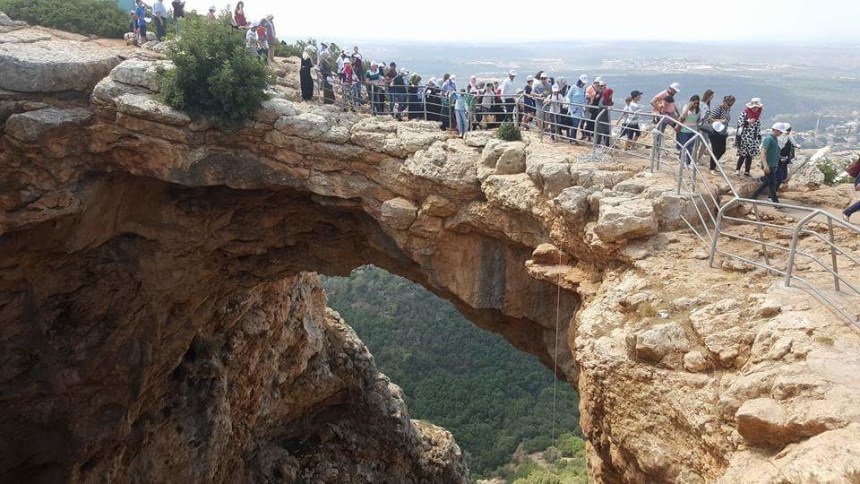 500 USD Per Group (* 5 Pax)
The tour includes transportation and tour guide.
The price does not include entrance fee for the cable car at Rosh Hanikra. (42 NIS PER Person)
Things to carry:
Flash light for the caves.

Hot water.

Hiking shoes.
Haifa

Trekking Tour

Cave Tour

Ziplining Tour
Contributed By
Departures
This tour is offered throughout the year.
Other Tours by this guide