1 Hour Aircraft tour itinerary for Yakum: Glide Over The Land And The Sea
Yakum

Aircraft Tour

ATV Tour

Paragliding Tour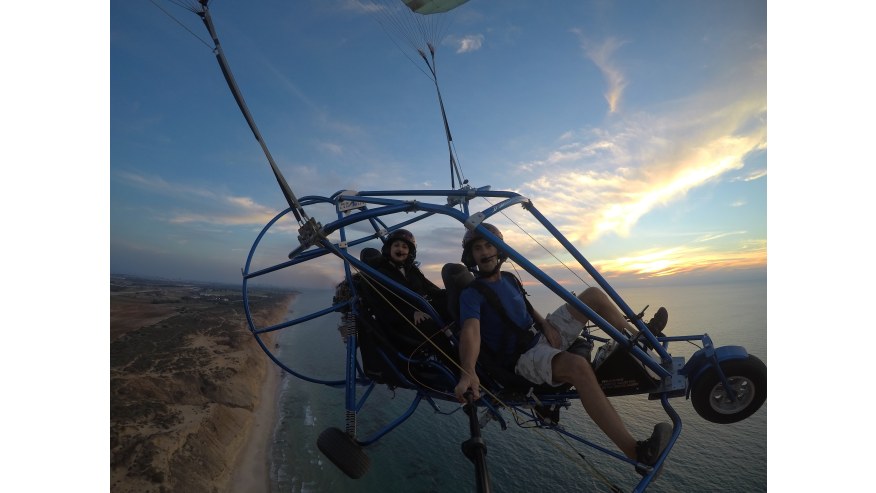 Indulge in a thrilling experience as you fly over landscapes of central Israel and the sea beach. Get an opportunity to see orchids, fields and the coastline of Israel.
Flying ATV over central Israel and sea
Start the tour after meeting your Tel Aviv tour guide and drive to the Sharon Area (about 35 minutes drive from Tel Aviv).

Take the flight over the Sharon area, and get to see orchards, fields and the coastline of Isreal.

While flying over central Isreal at an elevation of 300m, combine your journey with a low flight over the sea and the beach at 2m.
Flight duration: 40 minutes.



300 USD Per Adult , 300 USD Per Child
A thrilling flight on the flying ATV, just you and the pilot.
You can order videography and photography during the flight. The photography order is made on-site, NIS 150 per person.

You can participate in flying the ATV yourself. Order is made on-site, NIS 150 per person.
The flight is allowed over the age of 6 and is prohibited for pregnant women.

The flight is subject to weather on flight day.


The custom flight can be calm and fun or can give you the adrenaline rush.

Yakum

Aircraft Tour

ATV Tour

Paragliding Tour

Contributed By
Other Tours by this guide
From USD

1200

1 Hour

Experience a ride on a one-of-its-kind flying ATV and fly over the Dead Sea and the Judean Desert. Fly over the mountain and the ...

From USD

800

1 Hour

Board an adventurous flying ATV for phenomenal views. Just you and a pilot, you will see a lot over interesting things like the ...