4 Days Jeep Safari tour itinerary for albania: Experience An Epic Journey Across Albania
Berat, Çorovodë, Fir of Hotova-Dangell National Park, Gjirokaster, Përmeti, Poliçan

Nature Tour

Rural Experience Tour

Jeep Safari Tour
Take an exciting journey from Berat to Gjirokaster, discovering some hidden treasures like Skrapar, aka Corovode, famous for fresh water, mountains, and the great Osumi Canyon. Make a stopover at Polican, a small town that was created only to create guns during communist time.
Drive from Berat to Explore Osumi Canyons and Communist town
Start early in the morning from Berat. You will be picked up from the hotel, followed by a drive to the south of Berat. The views during the drive will be spectacular as it is a mosaic of mountains, hills, valleys, old villages, vineyard, bunkers, and old guns factory.

Stop for a break in Bogova, a village famous for nature with a hidden waterfall.

After stopping at a good café, start walking to reach the waterfall. This area is full of herbs, fresh water, and different trees that dot the region.


Start driving to Polican, a city founded to project and produce guns during Communist time. It was the most secure town of all Albania during that era. These days, one can find all the gun factories are still working, not to produce guns but to destroy the ones produced.


Take a short walk in the town and stop in front of tunnels, built to protect communist leaders in case of a strike from the Western army.

Skrapar, aka Corovoda will be the next destination, and is famous for its canyon. The edges of the canyon have an unusual ecosystem that preserve the greenery on both sides all year round. Mediterranean bushes like heath and briar flourish along with rich flora and fauna. On the slopes of the canyon, erosion has created pock-marked cavern walls with small caves.

Explore some of the rock formations in the canyon. These have fancy names, such as the Cathedral, the Eye, and the Demon's Door. The canyons are 26 km (16 miles) long, at an altitude of 450 m. They are believed to have been formed 2-3 million years ago by water erosion.

The local inhabitants tell many interesting legends, such as those of Mulliri i Babait, Vrima e Nuses, and Saint Abaz Ali.

The canyon includes six narrow sections ranging from 1.5 m wide in the riverbed up to 35 m wide further up the sides of the canyon.

There are some nice places to swim and hike around canyon. Water is not so cold and there are some perfect places to swim.

Spend about 2 hours in this great canyon, and eat lunch comprised of authentic traditional food.

After lunch, journey towards Permet - the City of Flowers.

Check in hotel to relax a little bit, and later, try their special dessert, called Gliko.


Walk inside the small town of Permet.

Dinner in a popular restaurant.
Adventure and Trekking Tour Around Permet
Start early in morning, going for a short walk to Bredhi I Hotoves, one of the biggest national parks in Albania, with high biodiversity. The area is known for its magnificent fir forests, mixed with oak.

The park is rich in endemic, sub-endemic, Balkan, and Mediterranean plants. Meet mammals like the wolf, bear, deer, wild boar,


Take a short walk and swim in this natural spa pool.

Next, explore the natural spa thermal waters of Banja.


Lunch will be a traditional picnic in thermal waters.

Spend time here enjoying and relaxing in nature. Swim ,hike or explore around.

Visit Langarica Canyons one of the most beautiful attractions of permet

In the late afternoon, return to Permet

Permet is famous for Gliko ,a special desert made from every type of fruit and flowers. Lets taste some gliko in one of the small family run workshops.

Dinner follows in a small restaurant with traditional product ( there are numerous dishes we can try )

Walk into the city and climb on the top of Permet Rock, a big rock located in the heart of city from where you can enjoy city views during night.

Gjirokastra- Labova Church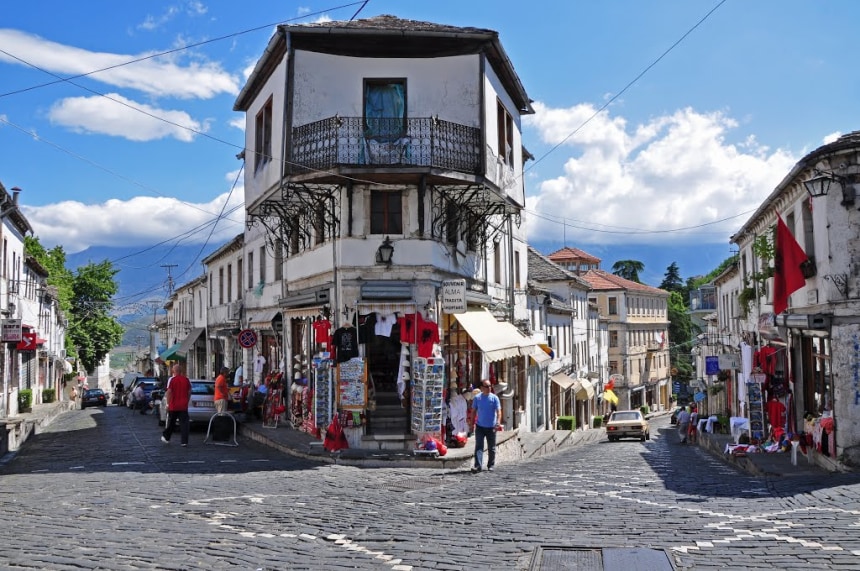 Today we are going to visit the historic city of Gjirokaster. The main characteristic of Gjirokaster is the intensive use of stone in building its houses, which look like small fortresses, and the streets of cobblestone, which all lead to the bazaar. It is also famous for being the birthplace of Communist Dictator Enver Hoxha, and Nobel Prize candidate for Literature, Ismail Kadare.

Before we have to make a short stop to Labova Church The foundation of the church dates back to 6th century, during the reign of Byzantine Emperor Justinian (527–565 AD). Justinian erected the church in memory of his mother. The present building dates from the 10th century or – according to another source – 13th century, during the time of the Despotate of Epirus. The church retained a fragment of the True Cross due to a donation by the Byzantine Emperor. According to another tradition, the Byzantine Emperor donated the miracle-working icon of the Virgin, known as "Labovitissa".

Check in hotel for a short break or continue with tour.


Stroll through the Gjirokaster Bazaar.

Visit Zekati House, one of the most magnificent and characteristic buildings of Gjirokaster. Built in 1811-1812, it is a three-floor building and has two twin towers. A special feature of the house is the wooden carved ceilings and the guest room. From the wooden balcony on the third floor, one can enjoy an impressive view of the city.

Visit Castle of Argjiro, the most important structure of the city. The origin of Gjirokaster starts with this castle, which was built in IV century, when the city was named Argyrokastro.

Dinner at a traditional restaurant. The town of Gjirokastra is also known for its culinary art; try special dishes like pasha qofte, shapkat, and oshaf with dried figs (a dessert with sheep's milk, sugar, and dried figs).

Free time to explore town during the night.
Drive back to Tirana Visit the Historic site of Apollonia
Today we start after breakfast to drive to Tirane.


On the way, visit Tepelene - a short visit to castle; and Uji i ftohte - one of the best in Albania.

Stop at cafe or have some snacks.

On our way we will stop to see one of the most historic sites of Albania, Apollonia

Apollonia is an old illyrian settlement founded during 6 century BC. Historians Believe that it was the biggest antiquity town of its time. Here, visit the Byzantine Church build by Emperor Peleologu and the Archaeological Museum of Apollonia

Proceed to Tirane
409 EUR Per Adult (* Prices are flexible)
Food: Breakfast & Traditional Lunch.

Transport.

Accommodation.

Entrance for Park.

Castle entrance.

Zekati house entrance.

Tour guide.

Local tour guide in Permet.

Gliko degustation.

Apollonia entrance fee for museum and archaeological site
Prices are flexible.

During this tour, carry: hiking shoes, sunglasses, camera, and swimsuit.

This tour could be more than 3 days.

For any other question or special needs, please contact guide.
Berat, Çorovodë, Fir of Hotova-Dangell National Park, Gjirokaster, Përmeti, Poliçan

Nature Tour

Rural Experience Tour

Jeep Safari Tour
Contributed By
Other Tours by this guide